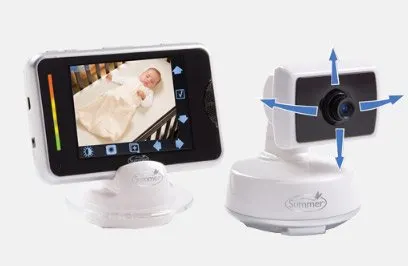 I am a big video monitor person! Yep, no matter how big or small your home is, I firmly believe that a good video monitor could be a worthwhile investment that could give you that peace of mind that a new parent needs.
Enter the Summer Infant Baby Touch Video Monitor.
This is one of those good video monitors that I'm talking about. Bursting with parent- and baby-friendly features such as multi-camera capability, a REAL pan/zoom, battery option for the camera and a compact, touchscreen parent unit. Seriously, this is all good stuff people!
Here are some of my favorite features:
BIG Screen. 3.5" color LCD screen with automatic black & white night vision. Bigger screen = better visual on your baby. 'Nuff said
Touch-Screen Parent Unit. Similar to an iPhone, you can do most of the features by pressing the actual screen.
Pan/Scan/Zoom. This isn't your typical pan 2 inches to the side that we've seen on other monitors. This is the REAL deal!
100% digital technology. No one else can see your baby. That would be creepy, right?
Talk-back Feature. Good for babies but BETTER for toddlers and kids. Watch the video review below to see what we mean.
Battery Pack for Camera. Sometimes an outlet just isn't in a convenient place.
Can add 3 additional Cameras. Most people don't have just one child. This is good for them.
10-hour rechargeable Parent Unit Battery.Good. It's just not cool to have a dead battery after 2 hours.
Sure there are other features but these are our favorites! Plus, we even did a video review for you to show it to you up close and personal.
Shop Summer Infant Baby Touch Video Monitor HERE