BabyGizmo.com's Giant Weekly Giveaway this week is a fun Early Rider Balance Bike and Little Nutty Helmet!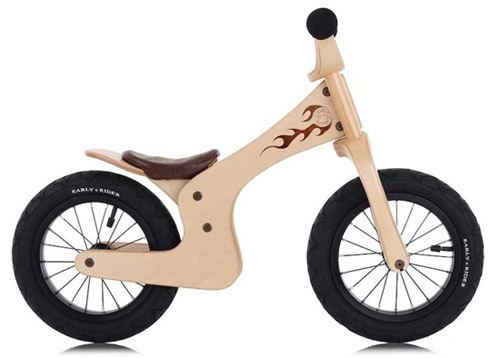 The Early Rider is a wooden balance bike that is made of birch wood and features "fat boy" tires, embossed flames and a faux leather seat. With a bike like this, your child will be the hippest kid on the block! Believe us, the Early Rider got so much attention everywhere we took it from not only kids but their parents as well. We were a little taken aback at the number of dads who approached us inquiring about the little bike! And when our tester set it down at the park, there were always a few kids that bee-lined to the bike to try it out.
For more information on the Early Rider Balance Bike and Little Nutty Helmets, visit their website HERE.
*PLUS, Baby Gizmo readers will receive a 10% discount from their website http://www.tykerider.com/ with coupon code "babygizmo"!

All you have to do is log in at BabyGizmo.com to be entered to win!  One winner will be chosen at random from all the people that log in and/or leave a comment!    Giveaway ends on Sunday, April 10, 2011 at 11:59pm CST.
LOG in to Baby Gizmo HERE
EXTRA ENTRIES: 
*Plus, you will receive extra entries into the giveaway if you:
*NEW* 1)  Post about the Giveaway on your favorite message board! (email us the link or add it to your blog comment so we know you did it!)
2) Leave a comment below and tell us why you should win the Early Rider Balance Bike and Little Nutty Helmet!
3) Comment on Baby Gizmo's Facebook Page about the Weekly Giveaway!
4)  Twitter about the contest!  (You need to leave a comment here and let us know you Tweeted it.  That's 2 extra entries if you do though!  One for the Tweet and one for the comment here!