Baby Legs has made this announcement:
"We recently received a complaint from a consumer regarding the Austen leg warmers, which we sold and shipped to many of you recently.  In this isolated incident, we learned that the heart shaped appliqué caused the child to choke until the appliqué was removed from her throat by the parents. Thankfully, the parents repo…rt that the child is in good health.  All items with the heart appliqué (Austin leg warmers, Sonnet knee highs and Ode socks) should be kept out of reach of children and infants and not worn by them. If you ordered any of the items pictured below, you are directed to destroy these items at once.  Please contact us immediately if you have experienced any similar incidents with this product. Our customer service number is 206-734-4000 or you can send an email to info@babylegs.com. Thank you for your continued support of the BabyLegs brand"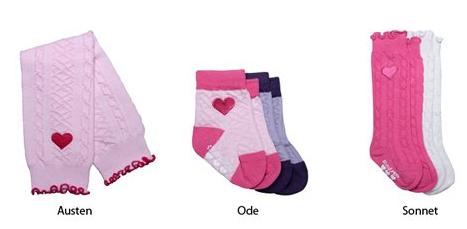 We love Baby Legs for their outstanding products and their even more outstanding customer service.  Customers who purchased this item online should have received an email from Baby Legs already but if you have not be sure to contact them.  This is a great display of excellent customer service and something I expect from companies who manufacture baby products.  Hopefully other companies will take note and follow suit when unfortunate mistakes are made.
– Contributed by Melissa