Baby Registries You Might Not Think Of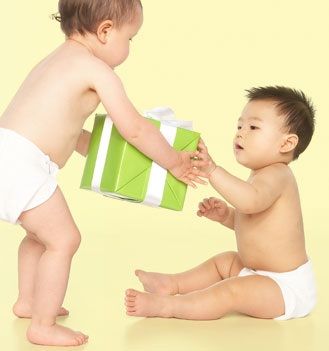 First off, if you're newly pregnant – congratulations! You're about to embark on a deep, dark rabbit hole of baby gear. Some moms get totally overwhelmed with it all but I just love it. That's probably why I write for a baby site 😉
When I say (er, type) the words "baby registry", what stores do you automatically think of? Odds are your first instinct is Babies R Us. And with good reason – they are one of the main baby retail chains that are available all over the country. Here's the thing, though – and please don't slay me – but I am not their biggest fan. Sure, they have a lot of great items in store, but I find them to be overpriced on many items and I am finding less and less of the brands I like in store. That said, I had a Babies R Us registry. It was easy for my family and friends to shop from regardless of where they lived and they offered a good selection of items. However, if I were to do it all again today, there's a few other places I'd consider creating a registry:
Target – they do it all, and in my opinion they do it well. I like the idea of having a Target registry because of the convenience of many stores, the tons of online only items they carry, and the ability that anyone purchasing with a Red card can also save 5% on any purchase!
Buy Buy Baby – at least in our area, Buy Buy Baby is a relatively new store. I find their selection to trump Babies R Us and find that they carry higher end brands. Also, you can use Bed Bath and Beyond 20% off coupons on almost everything in the store – score!
Amazon – mega-retailer Amazon, of course, has their own baby registry. It's easy to browse and easy to manage the items on it. A feature I really liked as someone shopping from an Amazon registry – I purchased an item NOT from Amazon, but was able to mark it as 'purchased' myself without contacting the recipient directly. A win!
Restoration Hardware / Pottery Barn Kids / The Land of Nod – all higher end shops that sell much more than nursery furniture (which, of course, you can add to your registry)! Check out these sites for nursery decor, unique toys, diaper bags, bedding, lighting, toys, even organic clothing!
Baby List – a universal baby registry site, Baby List allows the parents to be to register for *literally* anything they want. Anything. Home cooked meals, lactation support, a one of a kind cradle, anything. It's all on one site, so your family and friends are able to shop wherever they wish.
Etsy – though you likely won't be able to use Etsy as your only registry (you won't find cribs, car seats, strollers, or swings on the site), it's a great option to register for unique handmade gifts!