Baby wearing seems to be taking over the globe. When I was pregnant, I think I got one of each of every baby carrier that was on the market at my baby shower. I remember taking a Moby Wrap out of the box to test it out before my son was born, and I was baffled. To me, it looked like one big piece of fabric. What in the heck was I supposed to do with it? And how on Earth was a baby going to safely and comfortably sleep in it? Sometimes the instruction manuals can be confusing and getting the things to work can be tricky, but if your baby enjoys being close to you, a baby carrier may just be an answered prayer.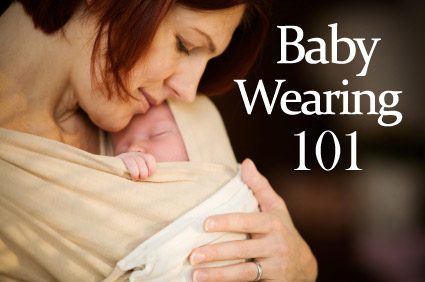 According to Wikipedia,
Babywearing is the practice of wearing or carrying a baby in a sling or in another form of carrier.
Did you know that babywearing has been practiced for centuries around the world? It has gained tons of popularity recently because of advocates of attachment parenting and has so many advantages for mothers and babies alike. Infants who are carried are usually calmer because all of their survival needs are met. Independence is established earlier, attachment between child and caregiver is more secure, and mother's oxytocin is increased through physical contact with the infant, leading to a more intimate maternal bond. Babywearing can also make breastfeeding easier which can be a big relief to any mother currently struggling with this.
Babywearing is extremely practical. It allows the wearer to be hands free which is HUGE for mothers who are busy, on-the-go, or simply need to get things done around the house. Since you can hold baby and still have two hands free, you can get your laundry done, do dishes that have been piling up, or vacuum. If you need to make a quick run to the store, your sweet baby can snooze while you have both hands free to load your cart.
So now that we've dug in to babywearing a bit, let's check out the different options. There are seven, yes SEVEN main types of carriers. Ring slings, stretchy wraps, mei tai's, buckle carrier, woven wraps, pouch slings, and soft structured carriers. When you first decide to start looking for a carrier, I recommend going somewhere like Buy Buy Baby so you can really check each and every one out and get a feel for them.
You may think something like the Moby Wrap will work for you but may realize that you'd be better off with a ring sling. While looking for the right carrier for you, you may also want to keep in mind your body type and comfort. Some baby carriers hold most of the weight on the back while others primarily hold the weight on your shoulders.
If you are a babywearer, or will become one soon, make sure you really read up on babywearing safety. It's important that parents who are wearing their children allow themselves extra room to move about so the baby isn't bumping into walls and doors. That may sound silly, but it is an adjustment once you have the extra body on you and some parents don't realize that.
Carriers need to be attached to the parents correctly and that can be a challenge in itself. Make sure you thoroughly read all instructions that come with your carrier, and if you're like me, and still are a little confused, don't be afraid to ask for help. If you get your carrier at places like Babies R Us, Buy Buy Baby, Nordstrom, or somewhere with awesome customer service, ask an associate to share their knowledge with you.
There are also lots of independent stores that specialize in baby wearing and would be happy to help you. Books, the internet, babywearing classes, there is a wealth of information out there for you to use!
Are you a baby wearer? What is your favorite carrier? What one tip would you give new moms who are looking into babywearing? Leave a comment below and let us know!