BabyBjorn Cradle Harmony Review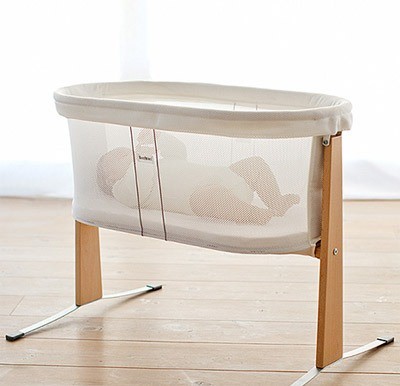 The Cradle Harmony is the newest addition to the BabyBjorn family of baby products. This chic cradle skips all the bells and whistles and keeps it clean and simple with a modern design and a gentle soothing motion to lull your baby to sleep.
This unique cradle has wooden legs and metal "feet" that were designed to create a gentle rocking or bouncing motion with baby's natural movements to calm and (hopefully!) help your baby fall asleep.
The cradle was designed for newborns up to 18 lbs but it's important to note that you should always discontinue the use of a cradle or bassinet at the first sign that your baby might be able to start sitting up unassisted. We love that it is lightweight (only 13 lbs) which makes it easy to carry from room to room so that baby always has a familiar place to sleep. By removing two screws, the cradle also folds down for travel.
I have to be honest, I'm usually quite weary of cradles because some of them have solid sides and I'm worried about the air-flow and breathability if baby were to roll against the side. I'm also worried about cradles that have too big of a swing that could potentially get stuck at an angle that could trap baby against the side of a non-breathable surface. I was relieved to see that the Cradle Harmony was different. Very different! The unique design that allows it to only slightly bounce or rock prevents a potentially dangerous angle from happening and the transparent, breathable mesh that surrounds baby not only lets you see the baby from every angle but gives you peace of mind that baby is in a safe sleeping environment.
The foam mattress has a removable, machine-washable cover and there is a fitted sheet sold separately. The cradle's mesh walls are also removable and machine-washable.
The BabyBjorn Cradle Harmony is definitely an investment because it is not cheap. Retailing for $349, this is a chic cradle with a modern price. To see the Cradle Harmony up close and personal, take a peek at our Baby Gizmo Video Review below: