Back to School Fashions for the Boys
This post is in collaboration with JCPenney.
The back to school countdown is on for us! We are just a few weeks away and all the preparations are underway. When you have a 2nd, 4th and 6th grader in the house, there are lots of things to do to be ready for that first day of school.
We look forward to our back-to-school shopping each year because not only are they on their way back to a daily schedule (yeah, me!!) but the kids love picking out new clothes and school supplies. New school year means new clothes, right?! Well, with kids growing like weeds in our family right now, new fall clothes are definitely needed. I want my kids to head back to school confident and prepared and pants that are too short and shirts that are too small from last year isn't going to do it. When you look good, you feel good and that means you'll do good.
So, this week we headed to JCPenney to see what we could find so that they could start the year right. Affordable, cute fashions that my kids are excited about wearing was at the top of the list! Today, I'm talking about the back-to-school fashions we found for the boys. My daughter is headed to middle school (#holdme), so that back-to-school fashion journey deserves its own post.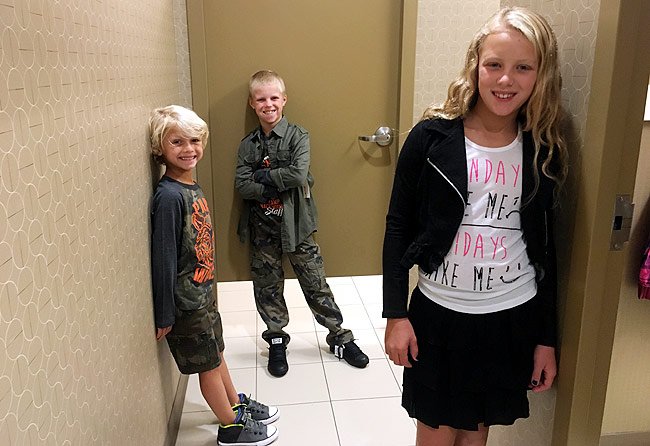 At first the boys weren't that excited to shop, but when they found out it was all about THEM, they were on board! I was looking for sales and they were looking for "things that look cool."
It can be tricky to shop in August because our North Carolina summers are so hot and that extends into September and October so we need fashion that can transform from season to season. Every year, we start our shopping for the boys by looking for t-shirts and shorts that can stand alone, but when it gets cool, a long sleeve shirt can be added like this great outfit by Arizona Jeans Co.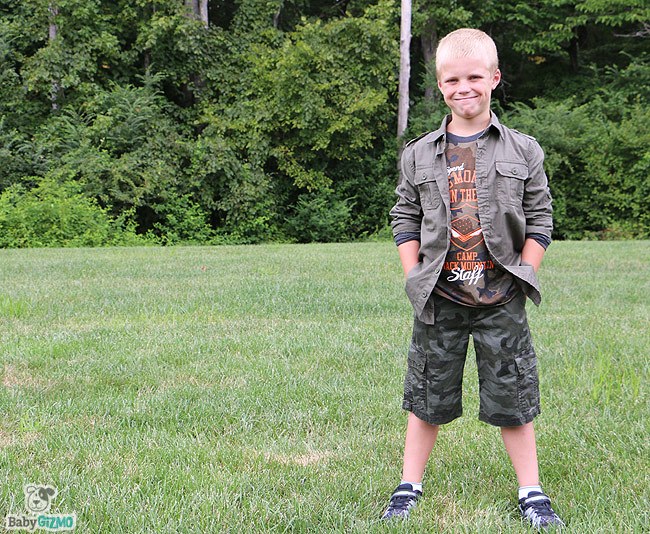 Plus, since jeans and cargo pants are also pretty important, we grabbed a pair of these cool military-style pants for the cooler days.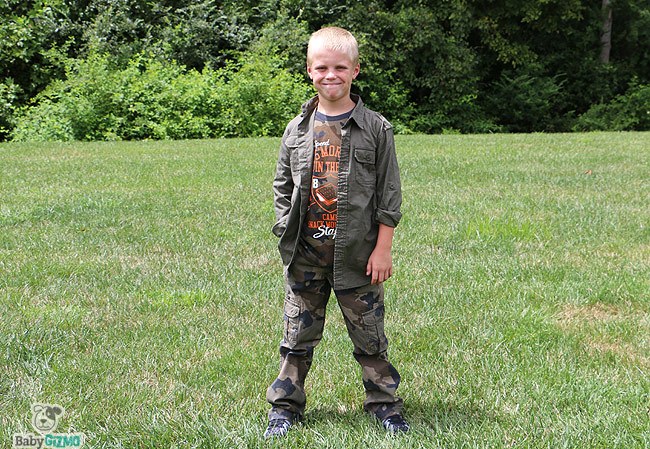 My son was pretty excited that Arizona Jeans Co focused on military greens and utility neutrals this season. "Army clothes" are some of his favorite things to wear so this was his favorite back-to-school look that we grabbed.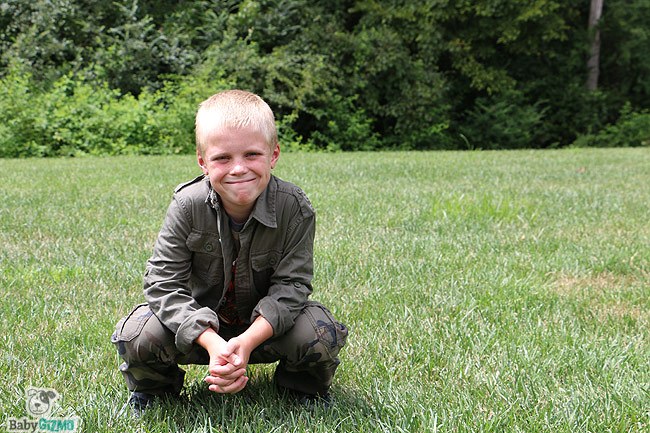 All the pieces complimented each other and could be worn various ways to make a bunch of outfits and they seemed super durable for my rough and tumble guy, so I was happy that we found something that we both could agree on.
Here's his favorite pieces:
Arizona Long-Sleeve Military Shirt
Arizona Belted Cargo Pants
Arizona Long-Sleeve Graphic Raglan Tee (Olive Camo)
Levis Westcoast Cargo Shorts (not sold online)
My littlest guy navigated right to the "soft clothes" that would keep him sporty and comfortable all day. The cute selection of Xersion Kids with hi-tech brights and fun graphics was right up his alley.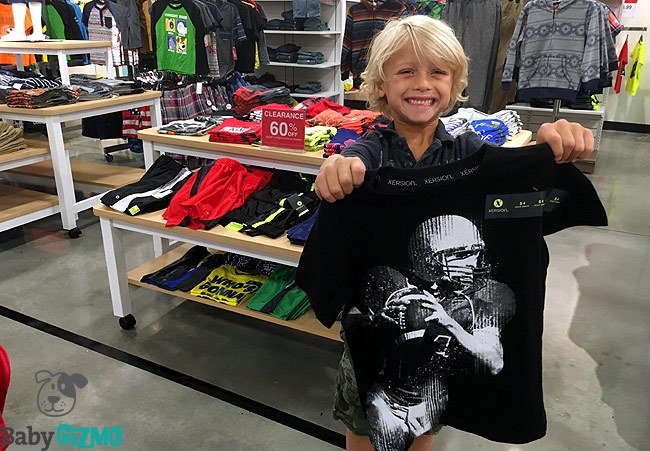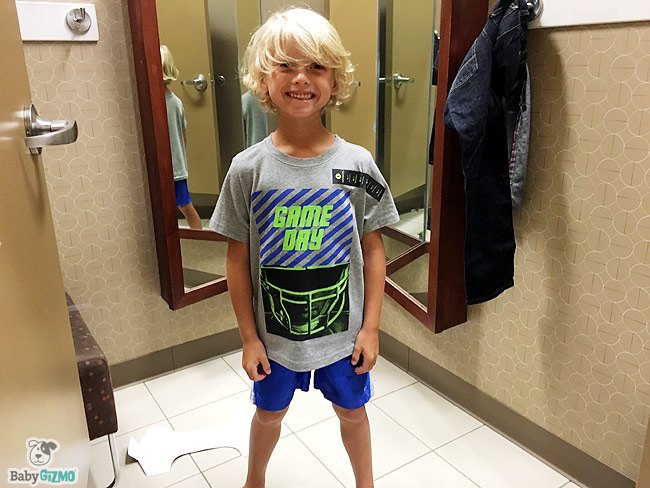 While I was okay to get him some of his favorite soft clothes (who doesn't like soft clothes, right?!?), I had him pick out another outfit for the days that we need to dress a little nicer.
He chose this cute blue and white Arizona striped polo that happened to be on super sale so we scored it for only $4.13. Win-win. The Arizona Jeans Co. dark skinny denim that we picked out to match were also on super sale so the whole outfit cost me less than $20. #SoWorthIt He likes wearing it because he picked it out and I like saving a bunch of money, so his back-to-school choices were perfect in my book.
Here is his look:
Arizona Original-Fit Jeans (Skinny)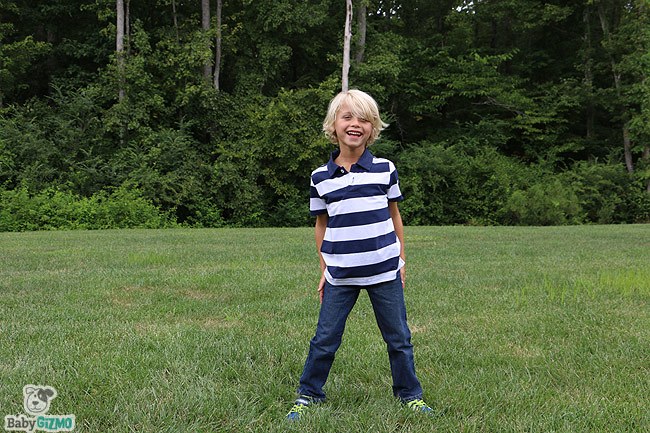 For the limited time that I had in the store before the boys started to melt down from too much shopping, I thought we did pretty great picking out some fun and affordable back-to-school outfits. The boys will look good, be comfortable and stay on trend (as if that matters to them!) with their new outfits.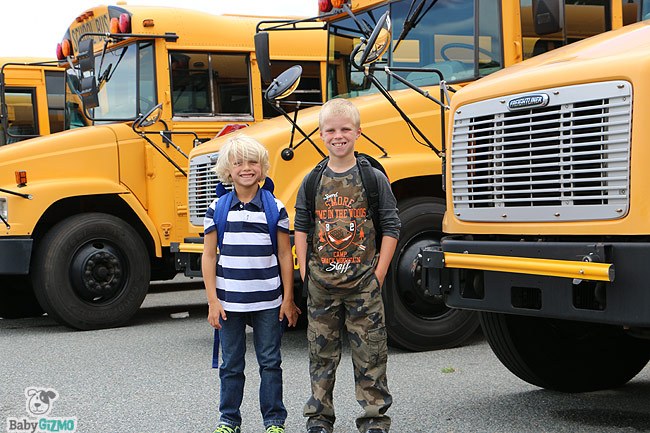 If you are headed out for back-to-school shopping, here are a couple tips for getting the great deals at JCPenney.
PENNEY FRIDAY & SATURDAYS: Check out the JCPenney Penney Friday and Saturday deals! There are many "Buy One Get One for a Penny" throughout the store on those days.
POKEMON PROMOTION: Get an additional 15% off coupon for verbally telling an associate or showing their favorite Pokemon character.
You can check out more great deals at JCPenney.com.
Disclosure: This was a sponsored post by JCPenney. As always, all thoughts, opinions and statements are our own.