Back-To-School Shopping For Mom!
Back-to-school season is in full swing!!!
Here in the Northwest we don't begin classes until after Labor Day, but the stores are full of supplies and my Facebook is full of back-to-school status updates. From what I hear, the supply lists are long and specific!
We are launching homeschool preschool this year, but that doesn't mean we skip back-to-school supply shopping. If anything, we do a little more than most because we need just about everything and I'm all about stocking up when the sale prices scream "BUY ME!" But, my purchases are not just for our school room and craft projects – I also buy school supplies just for me! Moms have to stay organized too, right?
Here's a peek at what landed in my shopping cart while browsing the back-to-school corner at good ol' Target!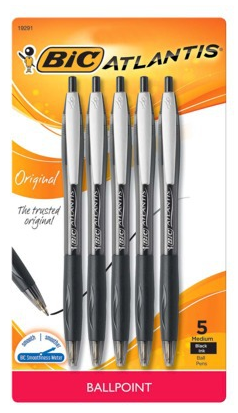 Bic Atlantis
These are the best pens! Smooth writing with a click top (no lid to lose!) – I bought one pack on a whim and will be back for more!
Index Cards
I write everything on index cards – grocery shopping lists, notes for my hubby's lunch, reminders for myself, picture messages for the kids. Index cards are the perfect size and they're sturdier than scrap paper.
Pretty Notebooks
For reminders that have a longer life span than my grocery list, I like to carry a little notebook. These ones are both pretty and functional.
Storage
Back-to-school is the PERFECT time to stock up on home storage solutions thanks to all the dorm room supplies. I grabbed 6 of these pretty storage boxes for a bookshelf in our dining room this year. Think through what you might need in your craft space, kid's closet, pantry, etc. then, stock up!
Snack Containers
As a breastfeeding mama I get hungry often. To avoid spendy and sometimes unhealthy runs through the drive thru I've started carrying dried fruit, nuts or trail mix in my purse for those imminent snacks. Back-to-school time has the best selection of snack containers for moms and kids alike!
When stocking up on binders and crayons for the kids, what school supplies to you buy for YOU?