Are you planning to serve up a love-ly Valentine's dinner for your date this year? If so, I've got the perfect starter … bacon heart salad! It's the best addition to any meal and is sure to make your bacon-lovin' man happy! Well, you too I bet, because these crispy bacon hearts are absolutely divine!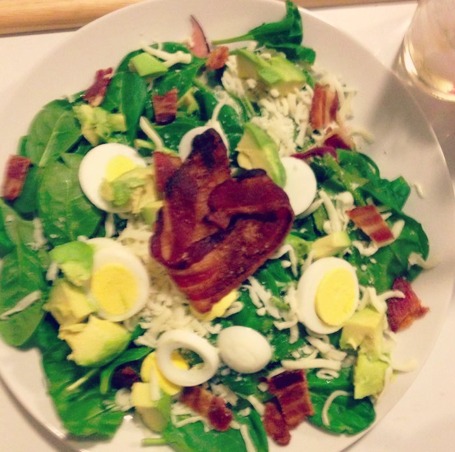 Of course, bacon hearts can top any salad, but here's our favorite mix:
Baby spinach
Hard boiled eggs, sliced
Avocado, diced
Mozzarella cheese, shredded
Homemade dressing (3 parts olive oil, 1 part red wine vinegar, 2 crushed garlic cloves, squirt of Dijon mustard and a dash of sea salt and Italian seasoning)
For these hearts, I was inspired by The Paper Mama … hop over to read her baking instructions. The only thing I do different is that I use a baking pan with a nesting wire rack so the bacon doesn't soak in all its grease. And, it seems like some bacon works better than others. You need thick and floppy bacon for perfect hearts – I use bacon from Zaycon.
Have a yummy Valentine's Day! 🙂