Believe it or not, I rarely if ever get to watch Food Network or any other network for that matter. Mommyhood and work keeps me pretty busy. But recently I caught an episode of one of my favorite Food Network Chefs, Giada Di Laurentis and boy was I glad I did.
She was doing an episode called Giada's Kids in The Kitchen and it was really cute. She made a bunch of kid-friendly recipes and the one I was particularly interested in was her Baked Macaroni and Cheese Cups. It's basically a cheesy pasta chock-full of veggies and ground turkey that's adorably baked in a muffin tin. Genius and I knew I had to try it.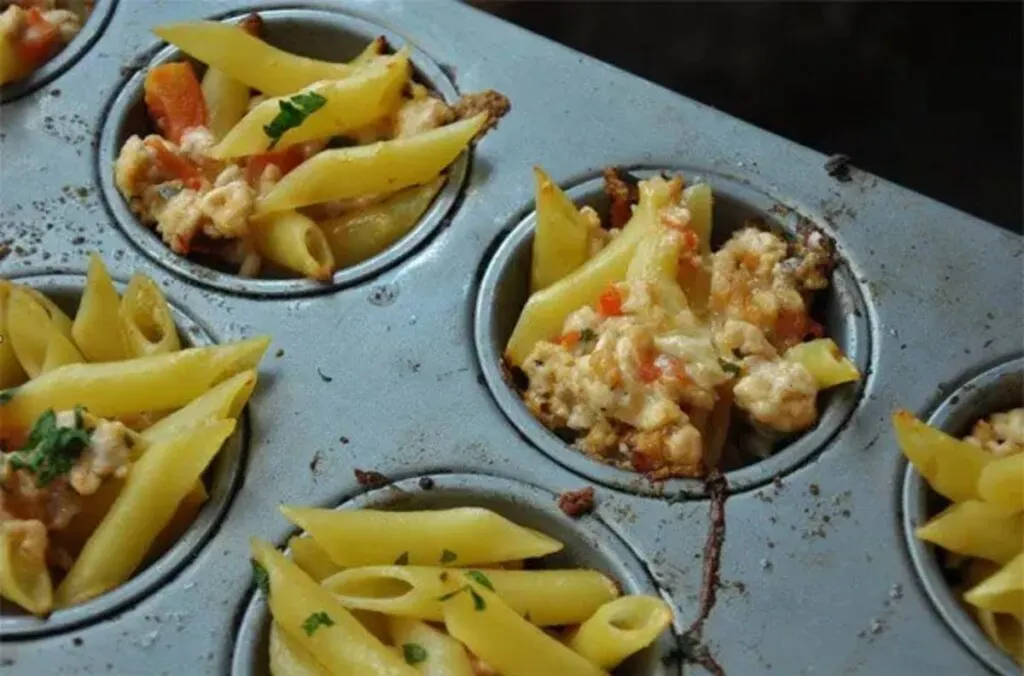 Of course I wouldn't be a recipe developer if I didn't change a few things from the original recipe but I assure you both my version and the original version are delicious. It's such a cute concept that I think you can do the same and change up the type of meat and cheese you use to personalize it to your family's taste preferences.
In fact, I think a ground beef and cheddar one would make a super delicious "cheeseburger" version that the beef eaters in your family will go wild for. The sky's the limit with this idea. And don't forget to get the kids involved. There are lots of fun steps to get even your littlest chefs involved in.
Makes 6-8 servings
Ingredients:
Vegetable cooking spray
2 cups dried bread crumbs, divided
1 tablespoon olive oil, plus extra for drizzling
8 ounces ground turkey or chicken, preferably dark meat
1/2 teaspoon kosher salt, plus extra for seasoning
1/4 teaspoon freshly ground black pepper, plus extra for seasoning
8 ounces small pasta, such as pennette, shells, or elbows
2 cups grated Parmesan
1 1/2 cups grated mozzarella cheese
1 cup cherry tomatoes, quartered
1 cup chopped broccoli, blanched,* see Cook's Note
1/4 cup basil, chopped
Instructions:
Preheat the oven to 375 degrees F. Spray 2 (12-cup) muffin or cupcake pans with vegetable cooking spray. Using 1 cup of the bread crumbs, coat the inside of each muffin cup with bread crumbs, shaking off any excess.
In a medium skillet, heat 1 tablespoon of olive oil over medium-high heat. Add the ground turkey or chicken, 1/2 teaspoon salt, and 1/4 teaspoon pepper, Cook, stirring frequently, until cooked through, about 5 to 8 minutes. Set aside and cover to keep warm.
Bring a large pot of salted water to a boil over high heat. Add the pasta and cook until tender but still firm to the bite, stirring occasionally, about 8 to 10 minutes. Drain and add to a large bowl. Stir in the cooked turkey and the cheeses. Season with salt and pepper, to taste. Spoon the prepared pasta mixture into the cupcake molds, filling evenly to about 2/3 full. Arrange a few pieces of tomato, broccoli into each cup. Top with a thin layer of the remaining bread crumbs and drizzle with olive oil.
Bake until golden brown, about 15 to 20 minutes. Let cool for a few minutes and carefully with a spoon onto a serving platter.