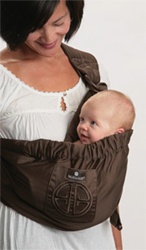 I was never much of a slinging-mama…until now.  I just couldn't master the technique of slinging my baby…until now.  I thought most slings were hard to use because the material lacked the "give" that allowed me to get my baby in and out easily…until now. I wanted that extra bonding that slinging promotes so I recently started using the Balboa Baby Adjustable Sling.  My son and I are in love with it!  Now, we are happy to report that I'm a slinging-mama!
The Balboa Baby Adjustable Sling was developed and tested by Dr. Sears & Family. Yes, THE Dr. Sears! Dr. Sears really knows his stuff because this sling is great for both baby and mom.  I have the chocolate brown sling that is absolutely gorgeous with its silky smooth cotton material. The material is so soft inside and out of the sling that it's comfortable for both my son and I.
One of my favorite features of the sling is that it has a fabulous contoured, padded strap that evenly distributes my baby's weight and is comfortable to wear.  When I say "padded" – I mean padded-like-a-pillow-padded!  This padding makes even carrying larger babies comfortable.  This sling is considered a "ring-sling" because it has two heavy duty rings that allow it to be adjusted for parents of different sizes.  I found that it is no problem to adjust it for a perfect fit.
Another favorite feature is the large, deep pocket that baby rides in.  Other slings I have tried had such a small pocket that we would have to discontinue using it after only a couple months because my baby wouldn't fit.  The Balboa Baby Adjustable Sling pocket allows even larger babies to ride comfortably making the sling usable longer.  My 14lb son (who cannot fit in some other slings) fits comfortably with room to grow.  The deep pocket also allows my son to be safe and secure as I am running around multi-tasking with my baby on board.  Plus, it is brilliant that the opening of the pocket has a padded, elastic trim making getting baby in and out a breeze.  I have no problem manipulating this sling by myself!
There are four recommended positions that you can carry your baby in this Balboa Baby sling.
Cradle Style: Your typical sling position with baby lying in the sling toward mom.  Great for newborns and breastfeeding
Cuddle Style: This style is where baby lays on mom's chest but has most of its body in and supported by the sling.  This style is perfect for newborns and babies that like to be closer to mom.
Front Carrier Style: Your baby sits more upright and looks out with this style.  This position is best for babies who can hold their heads up and want to see the world.
Hip Carrier Style: This position holds your baby on your hip hands-free and is for babies who can sit without support.
The Balboa Baby Adjustable Sling is one size that fits most and folds easily to be conveniently stored in a diaper bag or stroller basket. There is even two small outside pockets on the sling to fit a few essentials such as a wallet, pacifier or keys.  Retailing for $59, I think it is a great deal for a great sling!  If you would like to be a slinging-mama with a gorgeous, super easy-to-use sling, you have to check out the Balboa Baby Adjustable Sling.
Shop Balboa Baby Adjustable Slings