Here are some totally rocking beachwear ideas for girls from ages 0 – 4 years of age. Each of these looks reflects what's hot now for toddler girls. "What's hot?" you ask? Oh, well, right now it's all about ruffles, teals, pinks, flower prints, and retro throw backs.
Swimsuits.
Remember the days when there were little two basic swimsuit designs for little girls? Well, not anymore. Today, there are so many designs and styles of swimsuits on the market for little girls, from the standard bikini and one-pieces to rash guard tops and tankini bottoms. Since there are so many options out there, and to be slightly unfair to the boys, I had to show several great suits.
This Printed One-Piece from Old Navy comes in two prints and features the trending ruffled sleeves. Moms love it because it's a very adorable modest option for little girls that won't break the bank. ($15.00, Oldnavy.com)
This Guess Little Girls Snakeskin Ruffle Bikini sold at Macys has it all, from ruffles to fabulously bright colors to a halter to be tied in the back. ($12.74, macys.com)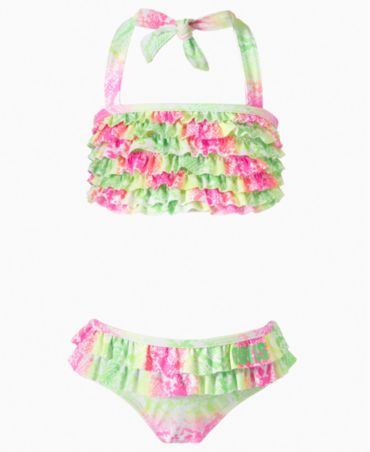 With this one piece by Kate Mack, sold at Nordstrom, it's, again, all about the ruffles and bright colors.($32, nordstrom.com)
Sunglasses.
This pair of Babiators sold at Nordstrom is perfect for a toddler with a flair for sophistication and fashion. Even though oversized, these glasses are specially designed to fit a toddler's face. ($20, nordstrom.com)
Cover-ups.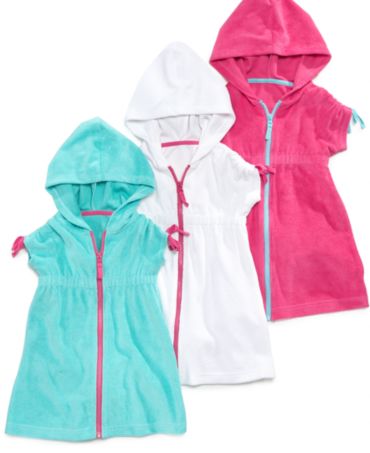 Coverups are not only great for adults, but also for toddlers in that they provide an easy go-to "outfit" to throw on when transitioning from water to land. This Pink Platinum Kids Coverup by Macys is made of terry cloth and zips in the front. ($11.24, macys.com)
Hats and Scarves.
Along with hats, vintage inspired scarves are a great addition to any little girl's beach look. My daughter has curly hair, so I love using large fabric scarves, like this one from Forever 21 or bandanas tied in such a way to frame her face and highlight her big, beautiful curls.
Shoes.
Strappy sandals are a huge hit for girls this season, so this pair by Gap is perfect. It comes in both red and white patent leather and features a leather outsole.
Shorts and Skirts. 
I love how casual denim looks on the beach. I love how frayed ends of "ripped" denim shorts and skirts seem to evoke such a measured carelessness that's so chic and shabby. These Peek "Griffin" Cuff Denim Shorts are made by Nordstrom ($45, nordstrom.com)
Tops.
What's not to love about this ruffle tank by Target. The flowers attached to the tank's sleeves add the extra edge of girliness that makes this one a huge hit!