Back-to-School time is right around the corner which means it is time to start shopping. One of my kids' favorite part of back-to-school shopping is picking out a new backpack and lunch box for the year. This is a big decision because their backpack will be their new IT accessory everyday. No matter what they wear each day or how their hair is styled, a constant is always the pack on their back.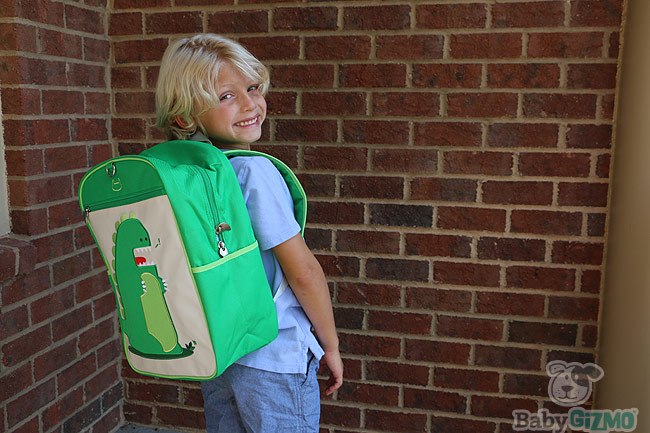 Whether your child is heading off to their first day of pre-k or kindergarten, or already well into their grade school years, you are probably on the hunt for that perfect backpack and lunch box that's not only cute but one your child will love.
Today, I have some ideas for you from BeatrixNY. They make adorable gear for kids that are perfect for the preschool through grade school crowd. They have a large line of big kid backpacks, little kid backpacks, lunch boxes, bento boxes, water bottles, suitcases and iPad cases all featuring whimsical characters and designs that kids love, while providing a high quality product that parents love.
We have loved BeatrixNY backpacks since my daughter was in preschool and carried around the cutest ladybug little kid backpack stuffed with her toys, crayons, games, snacks and even a few furry friends of hers.
If you have a child headed to daycare or preschool, the Little Kid Backpack might be the best choice for you. (Unless your preschool requires a backpack that fits a full-size folder, and in that case, you'll need the big kid backpack.)
These sturdy, toddler backpacks are designed for ages 2-4 and are made from durable nylon and wipeable laminated canvas. There is a roomy interior with a small zipped pocket and a padded back panel, and shoulder straps for a comfy carry. There are currently 12 Little Kid Backpack designs to choose from. Here are a couple of our favorites:
If your kids are of the grade school crowd, the Big Kid Backpack is the one for them. Designed for kids ages 4-10, they are big enough to hold textbooks, lunch, a laptop and more. These durable nylon backpacks have a large interior space with a small interior pocket. The exterior sports a large laminated, wipeable front pocket, two side bottle pockets, padded back panel and shoulder straps. There are currently 7 cute designs to choose from. Here is the Percival the Dino backpack with my 7 year old son: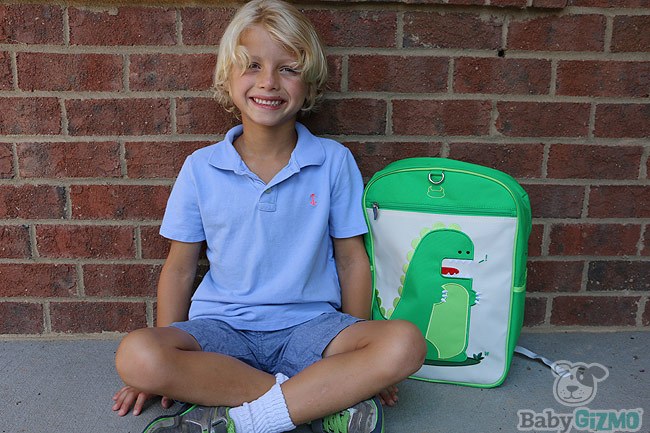 When it's lunch time, the kids are going to be bringing out the lunch box and they'll want a cute one to show off. That's where the BeatrixNY Lunch Boxes can come in. These PVC-free, phthalate-free, lead-free and BPA-free lunch boxes are made with heavy-duty nylon and are MACHINE WASHABLE for easy cleaning! The sturdy, insulated interior keeps food fresh and the embroidered details on the exterior will make all the other kids envious of this cute box.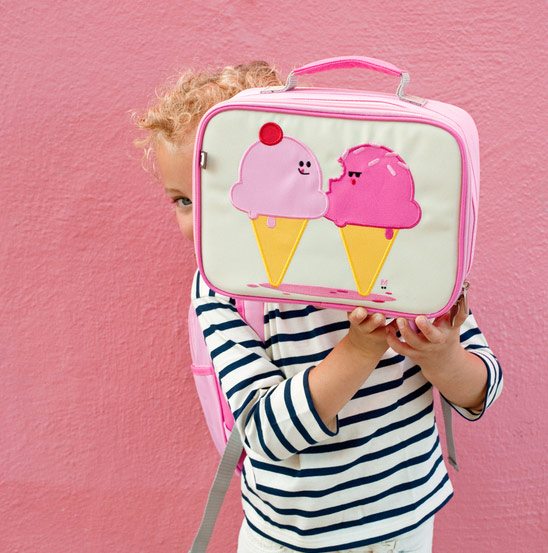 Another one of our favorite BeatrixNY products are the Bento Boxes. These eco-friendly bento boxes are made from natural rice husk fiber, not plastic. The rice fiber makes these boxes biodegradable and they will break down in about 90 days if buried in a landfill, rather than 100s of years like plastic. They are easy to open, yet air-tight to keep lunch fresh, and include a removable divider to keep food separate.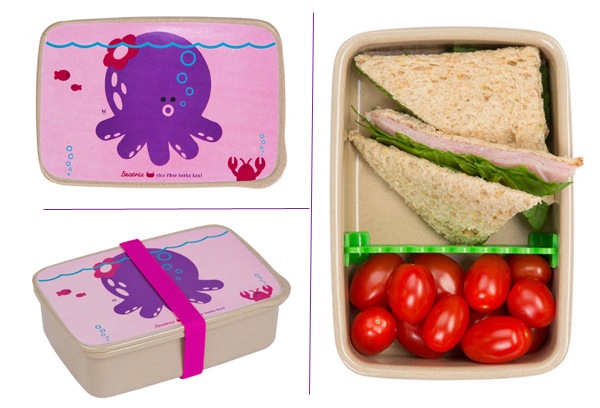 If you are looking for fun back-to-school gear for the kids, and you want durability with adorable designs that they are going to love, check out BeatrixNY at www.beatrixNY.com.
Disclosure: This post was sponsored by BeatrixNY. As always, all thoughts, opinions and statements are our own.