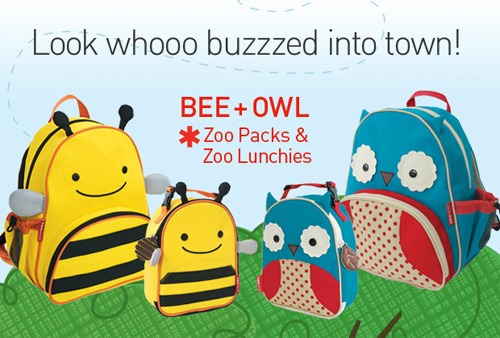 Skip Hop introduced their newest additions to the Skip Hop Zoo Packs & Lunchies – an adorable bee and owl. 
The Bee Zoo Pack is yellow and black and features an adorable bee face with corduroy antennas and a bee striped front pocket.  The buzz on this bag is that it is adorable!
The Owl Zoo Pack is blue, red and tan and features a fun owl face with a polka dot front pocket and leaf zippers.  This bag is really a HOOT! 
Zoo Packs are cute little kid backpacks for your child on-the-go!  These backpacks are the perfect size for a child to carry to preschool, daycare, camp or grandma's house. 
We love that the Zoo Packs are a smaller size, measuring approx. 11 x 11 ½ inches, so that they fit perfectly on our older toddlers and preschooler's backs.  Note:  the Zoo Pack will not hold a standard size folder which may be a requirement for backpacks in some preschool classes. 
It has a roomy main compartment complete with two interior pockets for all your preschooler's necessities.  The outside of the bag sports an adjustable side pocket, perfect for a sippy cup or a water bottle, as well as an insulated front pocket, great for snacks or lunch.  The Zoo Pack features padded, adjustable straps plus your standard backpack top carry handle.  The Zoo Pack is BPA-Free, Phthalate-free and PVC Free.  All the Zoo Packs retail for a very reasonable $20!
The Bee & Owl also are available as a Skip Hop Zoo Lunchies insulated lunch bag which coordinate perfectly with the Zoo Packs.  The Lunchies is an insulated bag that keeps foods and drinks cold that features a large main compartment big enough for a sandwich, apple and juice box and an interior mesh pocket for utensils.  The Lunchies even sport a top handle that can clip onto other bags or Zoo Packs and a write-on nametag inside. All the Zoo Lunchies retail for a very reasonable $13!
The new Bee and Owl backpacks join their friends – the Monkey, Dog, Penguin and Mouse backpacks.