Ya'll, may I introduce my pregnancy best friend …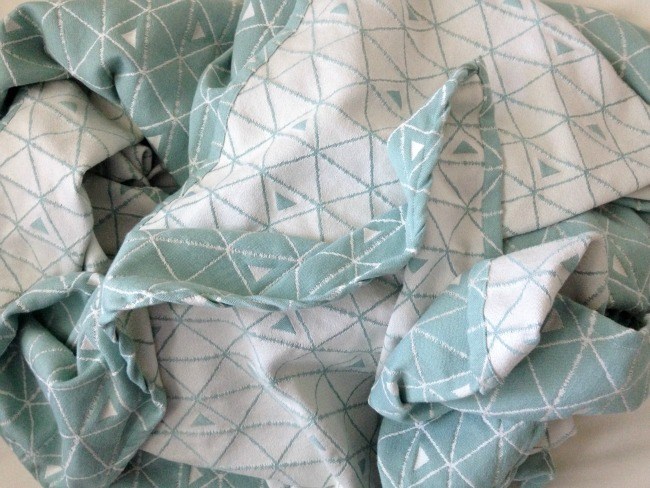 It's a Tekhni woven wrap and this piece of gorgeous fabric has seriously made pregnancy easier on me. I've been belly wrapping with my Delta Nova throughout my third trimester and the relief and comfort I receive is phenomenal. Best of all, I promise, it's easy to belly wrap!
Before I share the specifics of how I wrap this growing baby bump. Let me share a touch about Tekhni. You'll fall in love as I have 🙂
Tekhni Wovens Sling Studio was born out of Alisa DeMarco's love for babywearing and design. As a mom of three, she knows how life as a busy mama works. We need our hands free. We want to love on our littles and we need our baby products to be affordable. Alisa merged her passions and experience, and that is what we now see in the Tekhni Wovens Sling Studio with her wraparound baby carriers. They're perfect for newborn babes all the way to heftier toddlers. And, as I've experienced … for pregnancy support too!
There are many wrap options out there. Truly, wraps are a beautiful, deep hole of shopping potential! But, I have found that Tekhni is extra special. Not only do they offer a reasonable price point (so rare in the wrap world!), Tekhni wraps exude a modern design from unique blends that are appealing to both mamas and dads.
The Tekhni Delta Nova I've been wrapping with is a cotton Repreve blend. Have you heard of Repreve? Magic, I tell ya! Repreve is a a synthetic, but safe, fiber made from recycled materials like water bottles. The Repreve yarn Tekhni uses provides cush and breathability.
If you're new to wrapping or a seasoned babywearing parent who has yet to try out Repreve, YOU MUST! I'm thrilled with the strong stretch, the way it is breaking in, and the simplicity of the care instructions. Bottom line — Repreve rocks!
Now that you know a bit about Tekhni I'm sure you can see why it was my pick for pregnancy belly wrapping. It's perfect now and will continue to serve our family well in the coming months once baby arrives.
Having weathered two pregnancies without belly wrapping I'm honestly sad I didn't discover this simple technique before. I've tried other support options on the market and nothing compares to the soft, supportive feeling of a wrap. Plus, your wrap turns into the perfect baby carrier once belly wrapping days cease! I learned to wrap from my local babywearing group and then refined the art through a bevy of YouTube videos. Here are three favorites: Pregnancy Belly Wrapping, Belly Wrap With A Longie, and Real Life Wrapping: Pregnancy Belly Wrapping.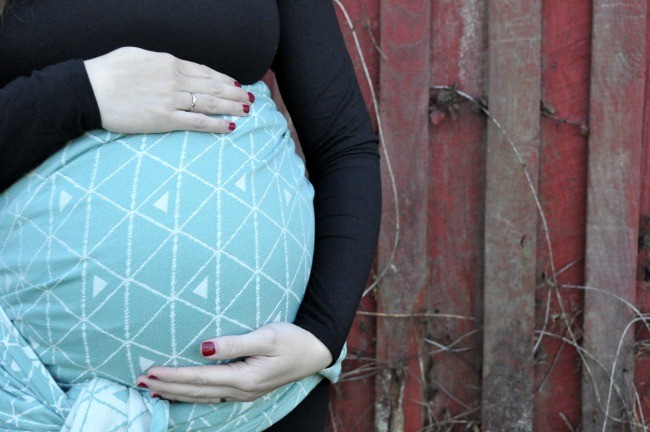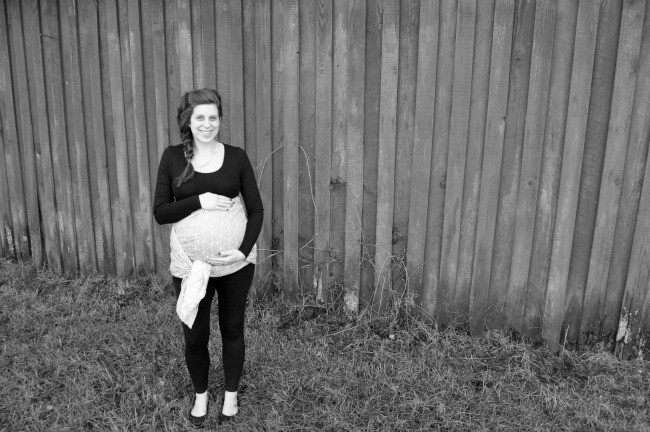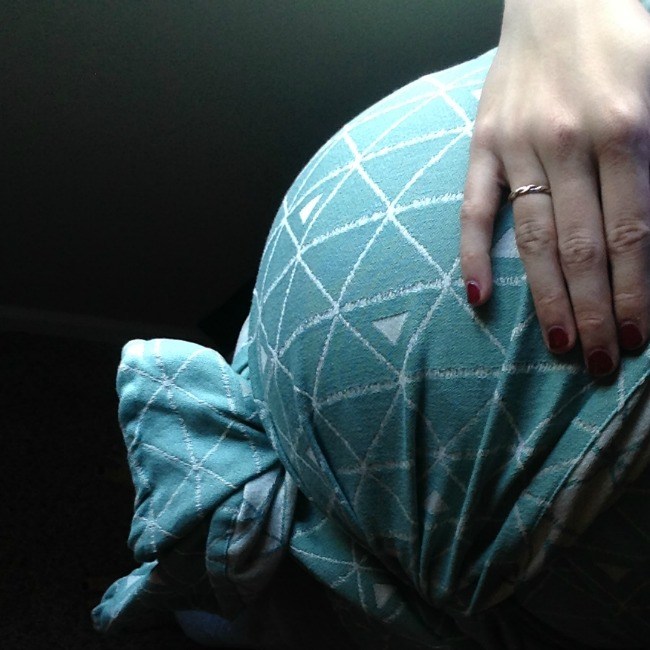 Belly wrapping during pregnancy lifts my growing belly in a firm, but gently way; such a wondrous feeling! It puts pressure on my aching back and strengthens my posture. Wrapping supports my hips and I've heard from many a mom that it aides in sciatica pain too.
For a basic step by step, this is how you get your wrap on …
Hold your wrap at the middle marker and place on top of your belly. Spread the wrap around each side of your abdomen.
Criss cross at your back and bring both sides back around to the front. Tighten up each rail and smooth out the fabric as you go. Loose means no support, so take time adjusting as you.
Criss cross underneath your belly for support and bring up towards the top of your belly, smoothing and tightening as you go.
Wrap around your back again, tightening at your hips.
Follow the above steps until the length of your wrap is used up and then tie off at your front, back, or side… whatever feels best to you!
Isn't the Tekhni Delta Nova the prettiest support piece you've ever seen? I'm got a good month left of belly wrapping and then keep your eyes peeled for newborn squish wrapping with it too!
You can learn more about Tekhni on their website and by following them on Facebook and Instagram. Wraps can be purchased directly through the Tekhni Etsy Shop.
Disclaimer – I received a Tekhni wrap in exchange for sharing about my belly wrapping experience.