Best Halloween Costumes In Hollywood
Happy Halloween from Celebrity Baby Scoop!
What better way to celebrate the spook-tacular holiday than by looking at our favorite celebrity kids in their boo-tiful costumes!
From Neil Patrick Harris' festive family-of-four, Alyson Hannigan's colorful crew, to Tori Spelling's foodie-themed fun, let's take a look at some of the best Halloween costumes in Hollywood.
◦  Neil Patrick Harris:
We love seeing the Harris-Burtkas' Halloween costumes!
The year before, the festive family-of-four dressed up in a Peter Pan theme, with NPH going as Captain Hook, David as Peter and their twins as Smee and Tinkerbell.
And not to mention this year's Alice in Wonderland theme!
"Our costumes for the Halloween carnival at the kids' preschool yesterday," NPH posted via Instagram. "But 10/31 will be frighteningly different..! @DavidBurtka came up with both themes/costumes. He's amazing."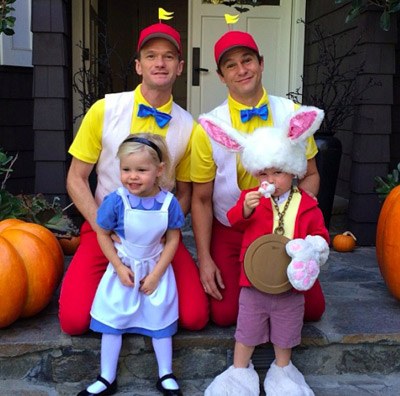 ◦  Alyson Hannigan:
Alyson Hannigan and husband Alexis Denisof love getting dressed up at Halloween.
The cute couple were seen trick-or-treating with their daughters Satyana and Keeva in Brentwood, Calif. last Halloween Day. The festive family-of-four were a colorful bunch in their seahorse costumes.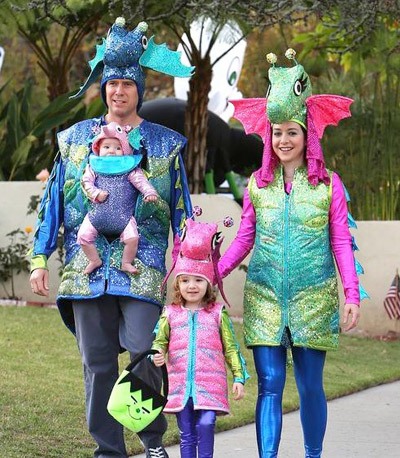 ◦  Jack Osbourne:
"The Princess of Darkness," proud papa Jack Osbourne captioned a shot of his adorable baby girl.
Dressed up as her 62-year-old rockstar grandfather Ozzy Osbourne, 1-year-old Pearl Osbourne nailed it with a long black wig and purple shades in the hilarious photo.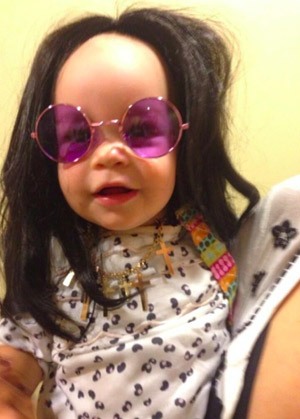 ◦  Tori Spelling:
Tori Spelling and husband Dean McDermott are proud parents to four children: Liam, Stella, Hattie and Finn. Last year, the proud mom shared some adorable shots of her costumed cuties.
When he was just one-month-old, her youngest child, son Finn, celebrated his first ever Halloween in adorable fashion, dressing up as a little sushi roll.
The reality star mama seemed to pick a foodie theme for her kids' costumes last year: she also posted a photo of her then 1-year-old daughter Hattie dressed up as spaghetti and meatballs.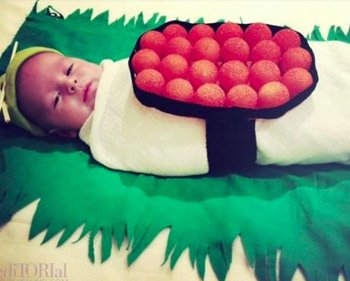 For more celebrity Halloween costumes, visit our friends at CelebrityBabyScoop.com.
CelebrityBabyScoop.com is one of the most popular blogs on the topic and the foremost provider of everything celebrity-baby, featuring baby fashion, baby names, baby trends and up-to-the-minute celebrity baby gossip and pics. Get all the latest news, updates, and photos about Hollywood's most beloved celebrity moms, dads and their babies. Who's the latest Tinseltown baby? Who's due next and who just announced a pregnancy? It's all on CelebrityBabyScoop.com.