Dad's Warning After Saving Choking Daughter
I'll admit, I've become a little lax with feeding my baby. I was super vigilant with my first and careful with my second, but by the third, I've become accustomed to worrying less. He gobbles down food and at meals there are plenty of eyes watching. But, this father's scary story has reignited my commitment to reading labels and double checking the food appropriateness of what snacks I sprinkle on his high chair tray.
Here is what happened… While turning to rinse a bowl in the kitchen, Justin Morrice glanced over to see his daughter, Annabelle, choking on the popular Gerber Lil'Crunchies, a baked corn snack. His eyes averted for mere seconds but that was long enough for a little crunch to become lodged in her throat.
He attempted infant CPR to no avail and saw her lips turning blue. Then, his hero instinct kicked in and he visually saw what was impeding his daughter's – a Gerber Lil'Crunchies – and removed it, opening her airway.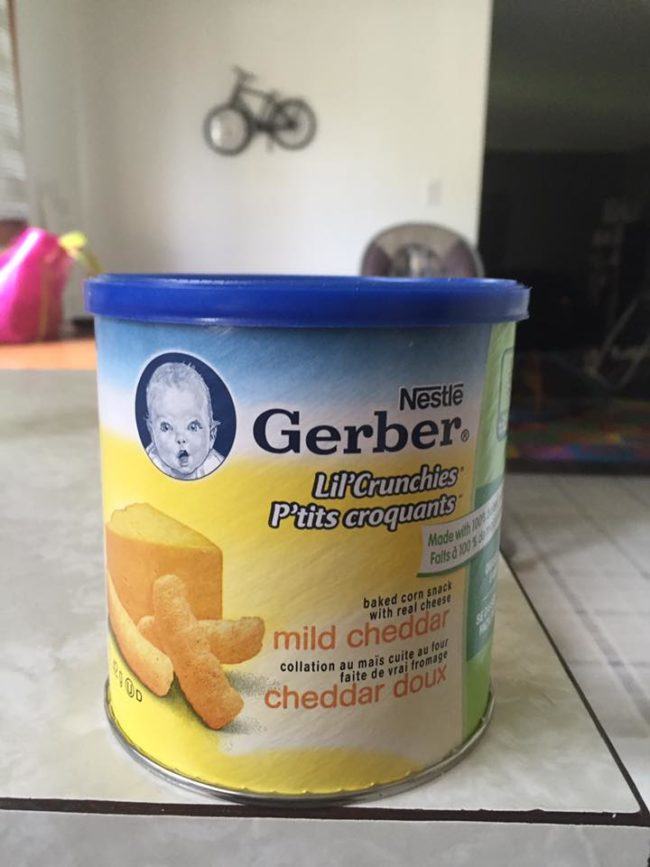 But why the hazard and worry from this little snack? Did they just need to practice chewing better? No, not in this case!
Morrice had missed something important on the label. A tiny warning reminded parents to discard the entire snack package 5 days after breaking the seal. Being familiar with the snack, Morrice did a quick comparison and found that fresh Gerber Lil'Crunchies were, in fact, crunchy. Older ones though, that still appeared fresh, were like a foam earplug … definitely something a baby couldn't chew or safely swallow.
You can read the entire experience straight from the dad here, I'm so thankful he was willing to share his misstep so we can all learn and better protect our kids.
Let this story be a reminder to us all – make sure all caretakers are reading labels and perhaps even sampling what baby is eating before they do. A little extra vigilance can go a long way when it comes to avoiding a frightening experience like choking.
Photo by Justin Morrice