Today I want to talk about birth plans. Did you have one? Did you go into the hospital with a complete birth plan filled out, knowing exactly what you wanted, or did you wing it? If you had a birth plan, did all of your wishes on that plan go according to plan? Did you have to change things as you went? When it comes to giving birth and making a plan, there are very mixed opinions on the matter.
Most women feel very strongly about their birthing views and hope their birth goes exactly according to plan. Some women prefer to give birth in hospitals complete with epidurals, and the whole staff on hand. Others give birth in the comfort of their own home, in their own clothes, drug free. Whatever your wishes are, giving birth is one of the most beautiful things in the whole world, no matter where you are or how you decide to do it.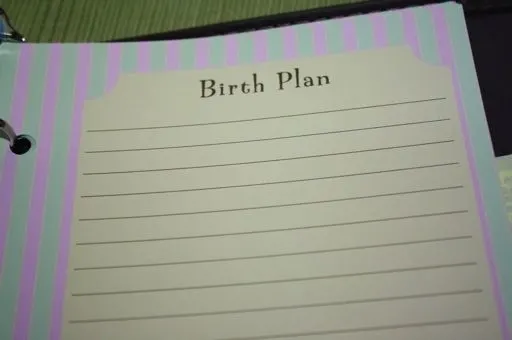 When I went to my birthing classes before having my son, I was given a birth plan to fill out. I was told to fill everything out completly and bring it with me when I checked into the hospital. The funny thing is, when I got to the hospital, no one even asked me for my birth plan. The only thing I really had the option of was epidural or no epidural. I know every hospital is different but my experience was to have an open mind when in labor because things do NOT always go as you had planned. You may plan for a totally drug free birth and then need to have an emergency cesarean. You may really want the epidural but then get to the hospital to find out you are too far advanced in labor and can't have one.
With that being said, I think it's important to have some sort of plan, whether written or not, about what your preferences are. At some point while giving birth you may be asked your preference on a number of different topics and you'll want to have already done your research and know how to appropriately answer the questions so things go as you want them to.
When you're making your birth plan here are some things you should think about-
-Who do you want to be present?
-Do you want a doula, a midwife, or a doctor?
-Do you want an epidural or do you want to be drug free?
-Do you want mobility or do you wish to stay in your bed?
-Do you want to walk, squat, stand?
-Would you be willing to have an episotomy?
-What are your thoughts on fetal monitoring?
-Do you want to wear your own clothing?
-Do you want to use a tub or shower?
-Do you have any special requests if you need a cesarean?
-What do you want to do for pain relief?
– Do you want to use a birthing ball to squat on, tennis balls to massage your back, or anything else that may comfort you while giving birth?
-What are your plans once the baby is born for care and feeding while in the hospital?
-For at home births what is your plan for hospital transport in case of an emergency?
The birth of your baby will without a doubt be the most memorable and happiest moment of your life. It is important to take some time before that time comes to write down all your thoughts and wishes about the experience. Remember to remain flexible when making your birth plan and account for unexpected things that may arrise during the birth of your precious baby.
Now it's your turn to share. Did you have a birth plan? What were some of the most important things you had on your birth plan? Did everything go as you hoped it would or were there unexpected things that came up that you hadn't planned for? Leave a comment and let us know!