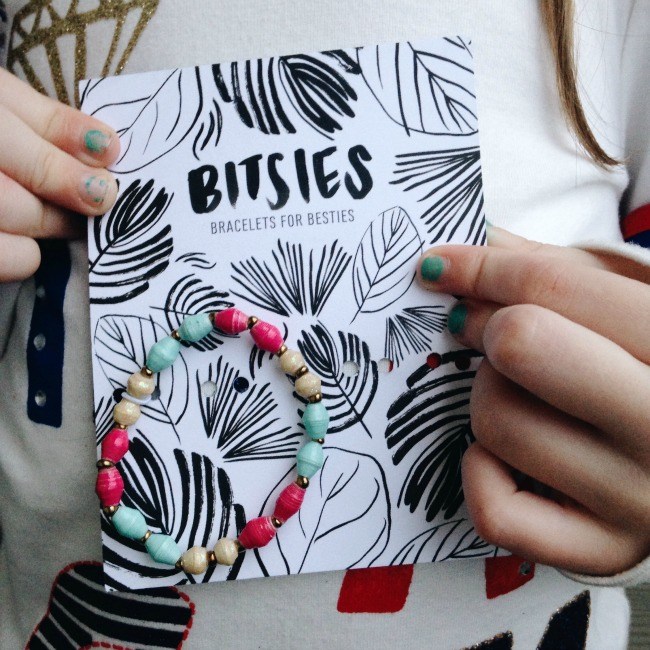 For the last 2 years, my daughter has been pen pals with a sweet little girl in the Midwest. They "met" through her mama and I. And her mama and I met through the internet… what a wonderful, small world!
Our mother/daughter friendships have flourished over the years as we've exchanged letters, art work, and little surprises. Pen pals are such a blessing! In this digital age, it is a wonderful thing to have my daughter experiencing the joy of snail mail.
Most recently, we received a fancy pen pal package for my daughter's 5th birthday. Inside was a friendship bracelet and happy birthday card from our favorite Midwest friend. But the bracelet wasn't just any bracelet! It was one from the shop, 31 Bits. 31 Bits is a fair trade company specializing in gorgeous paper beads – seriously, check them out, stat! Up until the arrival of this package I thought 31 Bits was just for grown ups, but no, they've got an entire kid's line of necklaces and bracelets. I'm smitten with this beautiful and conscientious accessory for my sweet girl who loves to accessorize as much as her mama!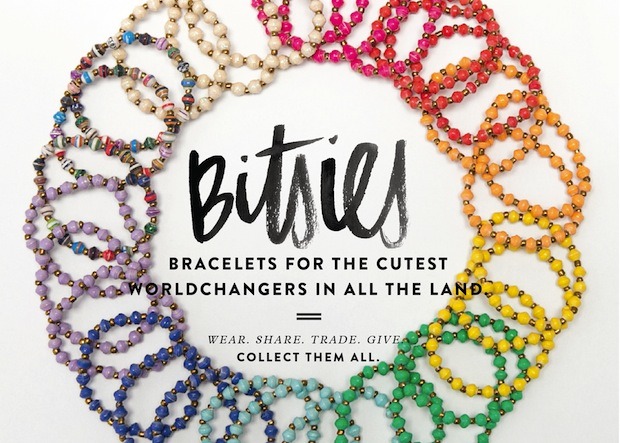 You can order any combination of necklaces or bracelets, both for moms and daughters, but Bitsies are special in that they come on card with 2 matching bracelets – one for you and one for a friend. Bitsies are modern day friendship bracelets!
At just $16, I recommend snagging some Bitsies soon … can you think of a better birthday or Christmas gift for your daughter to give her closest friends? There are 5 color combinations to choose from and, of course, coordinating necklaces are available for $18.
Best of all, by purchasing from 31 Bits, you and I become fair trade consumers; a valuable role in today's economy. Our purchases, even little $16 ones, make a huge difference in the lives of paper bead makers across the world. Let's teach our daughters to be mindful shoppers while blessing their friends with meaningful gifts like Bitsies!