Instead of buying store-bought smoothies try this recipe next time. I kick up the nutritional content by adding ground flax seeds to a blackberry banana smoothie. You can add whatever fruit you have on hand. I usually have an assortment of fruit in the freezer chopped up in individual bags. If you don't have fresh frozen fruit you can always add a few ice cubes in the blender. I let the kids decide which fruit they want and blend it all together and make healthy smoothies.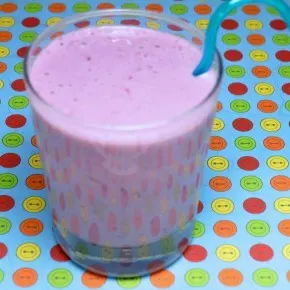 Smoothies are a great way to add fruit into your kids diets. You can easily help fill their fruit requirements by adding a smoothie to their day. I like making my own smoothies because I know exactly what is going in them and there not loaded with sugar and mystery ingredients.
Please share what smoothies you like making in your family! Enjoy!
Ingredients:
1 cup of yogurt
1/2 cup of blackberries, frozen
1/2 banana, frozen
1 tablespoon of ground flax-seed
Method:
1. In a blender add all ingredients and blend until well combined.