Boy or Girl … How We Announced Baby #3
It's always a toss of me, to find out our baby's sex or not. With my first, my husband and I opted for a surprise at birth. I was convinced I was having a boy … and then my sweet daughter was born 🙂
With our second, we were in the midst of moving and to be quite honest I was riding a hormonal wave to get through packing and just needed to have control over something. The 20 week ultrasound was my chosen control and we learned we were having a boy!
With a daughter and son you'd think we'd hold out for a surprise with baby #3. But, due to my curiosity and older children's wondering, we decided to find out if this third little bundle of joy is a boy or girl.
First and foremost, we wanted our immediate family to know the outcome of my mid-pregnancy ultrasound. Our almost 5 year old accompanied my husband and I to the appointment. She had prepared for weeks for what she would see on the ultrasound. She knew it would be black and white, kind of grainy and very unlike a regular movie. She also knew that she would be looking for a penis when the tech told us we were looking at the bottom if a brother was to join our family and, well, no penis if it was a sister.
At our appointment we were thrilled to learn that a healthy baby boy would be arriving in December! It took my daughter a little while to warm up to the idea, but then the excitement of sharing our news peaked.
To announce to our extended family and friends we visited Party City. There I selected blue star confetti and opaque black balloons. The Party City staff filled each balloon with little blue stars, added helium and tied them off. Our surprise was hidden and ready for our mini POP! party where we would announce if we were having a boy or girl!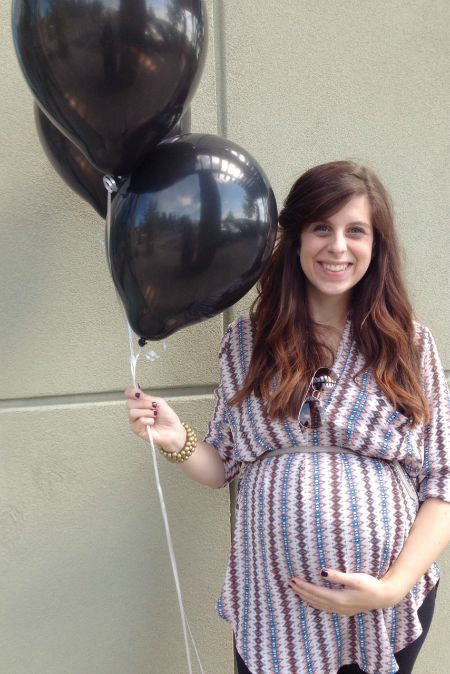 Now, the trick for a fantastic announcement is all in the popping technique. I handed out each confetti filled balloon as well as a pair of scissors. It's a wonder how many scissors one family can accumulate between two offices and kid craft supplies! I instructed everyone to stretch the base of their balloon just a tiny bit and snip right above the knot. The force of the helium propelled the confetti out of each balloon and before we knew it our floor was covered in blue stars and everyone was yelling, "It's a boy!!!"
How did you announce your baby's sex? I'd love to hear your creative ideas!