Britax Affinity Spotlight Video Review
Britax is strolling to a runway near you! Not the airport kind but a fashion runway with their new Affinity stroller. This is where high fashion meets high function with a customizable stroller that is sleek enough for even a celebrity to strut with.
The Britax Affinity allows parents to select from 6 different fabrics and three frames which offers 18 different combinations to choose from to create a serious fashion statement.
Before we get into the specifics of the stroller, let's talk about the "color packs". When you purchase an Britax Affinity, you will choose from a black, silver or white frame. The stroller fabric will come in a dark gray but you will need to purchase a "color pack" sold separately, to not only get the canopy, but to get that burst of color that really makes the stroller!
Britax didn't just want to throw any colors at us with this new fashion stroller, so they researched fashion trends to offer six polished tones like "Cool Berry" purple (a nod to Pantone's "2014 Color of the Year"), "Blue Sky," "Cactus Green," "Red Pepper," "Fossil Brown" and "Black". The color pack includes a canopy, shoulder and buckle pads, basket liner and machine-washable padded seat liner.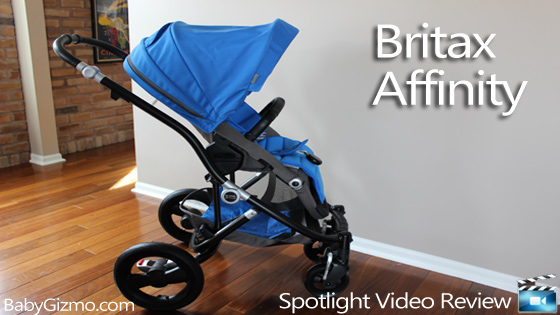 STROLLER SEAT
The Affinity seat is 12″ wide with a 21″ seat back and a measurement from back of seat to top of canopy of 22″. It accommodates from 6 months (Britax's recommendation) up to 55 lbs. Not to worry, for use with a newborn, they suggest using it as a travel system with an infant car seat, or for prolonged newborn strolling, with the sold separately bassinet.
An adjustable, padded, 5-point harness keeps your little one safely in the seat and the adjustable leg rest keeps them comfy. The seat has a deep recline with a unique, two-handed lever system towards the front of the seat, and keeping up with luxury stroller trends, the seat is reversible for your child to parent-face or face out at the world.
A removable, swing-away baby bumper bar covered in a leatherette rounds out the notable seat features.
STORAGE
There is a large accessible basket under the seat that holds an extra large diaper bag or plenty of baby essentials but there is no baby tray, cup holder or parent tray. That is on par with other luxury strollers that have those add-ons as sold separately accessories.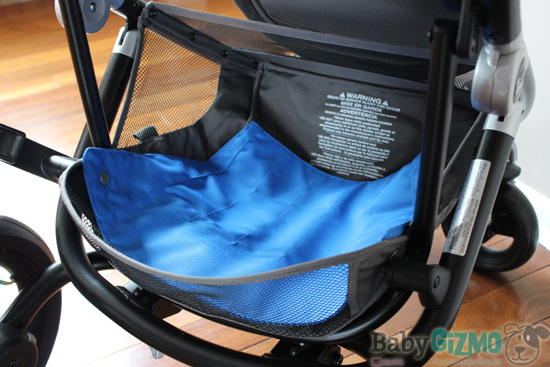 CANOPY
The Affinity sports a large canopy with pop-out sun visor and peek-a-boo window with a magnetic closure! We can't tell you how happy we are to NOT see Velcro on that viewing window! The canopy also unzips at the back to reveal a large mesh window to not only give you a better view of your child but to allow air to circulate through the seat.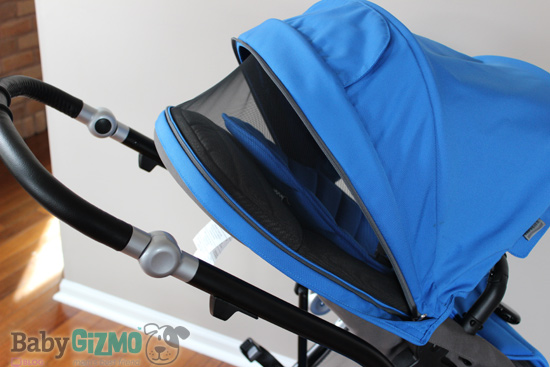 HANDLE
That leatherette handle bar adjusts up and down from 32 – 41″ but does not telescope out. We found that unless you are super-duper, supermodel tall, the handle height is perfect. We also love that the handle bar has a "gripper" piece in the middle that allows for super-easy, one-handed maneuverability.
WHEELS
Since the Affinity has your child riding in style, we are thankful it has great wheels. It rolls on 11″  air-filled, rear tires (like the Britax B-Ready) and 6″ hard rubber, swivel wheels in front. The front wheels can also be locked into place for a bit of "mommy terrain". The stroller has all-wheel suspension with adjustable suspension in the rear. Yep, they have thought of everything on this one. You can't have a baby fashion model getting bounced all around, right?!?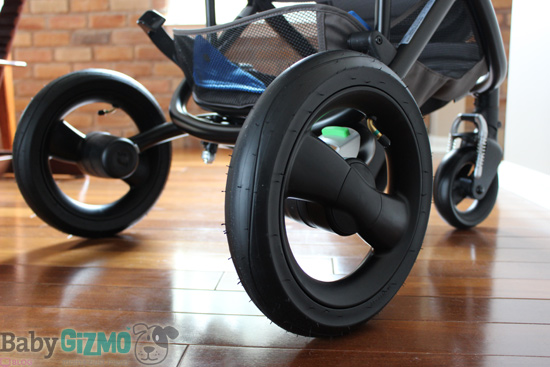 FOLD/UNFOLD
The two-handed fold is easy to do and ends in a standing fold. We do want to warn you to be careful not to scrap the beautiful handle bar on concrete while folding the Affinity because it does set on the handle bar with that standing fold. The auto-lock is a great addition to keep the stroller locked into place while transporting.
The stroller weighs in at 25 lbs which is average for a full-featured single stroller.
TRAVEL SYSTEM
With Britax's CLICK & GO integrated adapter system, the Affinity can become a travel systems with the BRITAX infant car seats.
ACCESSORIES
For those parents looking to add more to their stroller, the Affinity stroller accessories (sold separately) include: Affinity Bassinet, stroller organizer, Cozy Toes, stroller board, and car seat adapters (for "other" brands of car seats).
WRAP-UP
Overall, we think the Affinity is fantastic. We can't really think of anything we would change except to add a double seat option to turn it into a double stroller like the B-Ready. Other than that, it's pretty great. The Affinity retails for $699 ($599 for stroller + $99 for color pack.)