Burley Solstice Jogging Stroller Review (VIDEO)
Burley has been known as one of the leaders in bicycle trailers for the past 30 years. While their trailers can convert to jogging strollers, this is the first official "jogging stroller" that Burley is debuting and Baby Gizmo has the scoop!
Meet the Burley Solstice.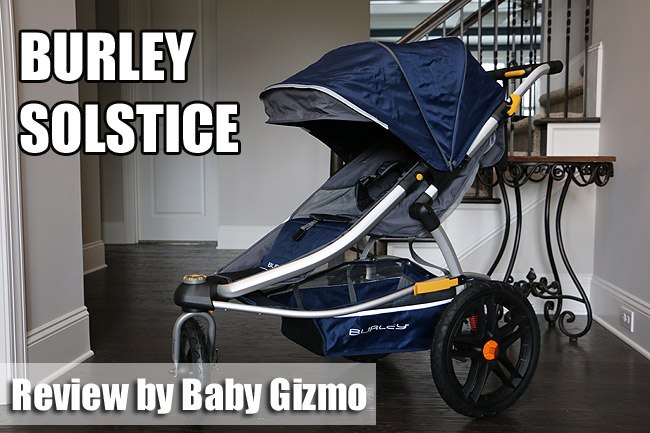 We are super impressed with the design, construction and features of the Solstice and think it will be a real contender in the jogger/all-terrain market.
SEAT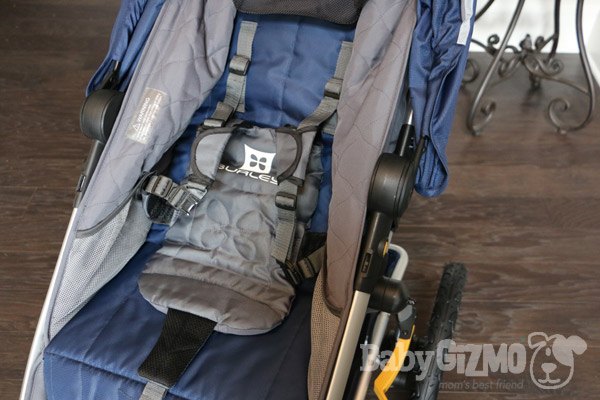 The 15″ wide Solstice seat is roomy with a 19″ seat back and a measurement of 25″ from seat to canopy. Since older kids sometimes hop in a jogger from time to time, the stroller has a high weight capacity of 75 lbs. The reclining seat is easy to do with one hand but since it does not recline flat, the stroller is recommended for 6 months and up. Note: You should wait until your baby is at least 6-8 months (check with your pediatrician!) before actually jogging with a baby in the seat.
The seat has a padded, 5-point harness to keep your little one safely in the seat, and new S.I.T. Technology that keeps the straps up and out so that you aren't fishing them out from under your baby's bum every time you put him in the seat.
BASKET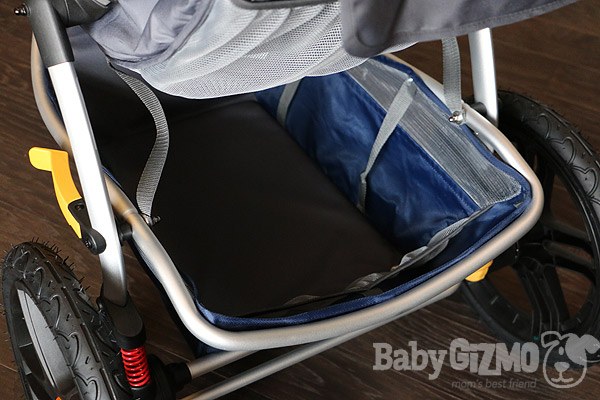 The basket is one of the largest on a sport stroller that we've ever seen. Have an extra large diaper bag or enough baby essentials for a few kids? Yep, it will all fit down in this easy-to-access basket.
CANOPY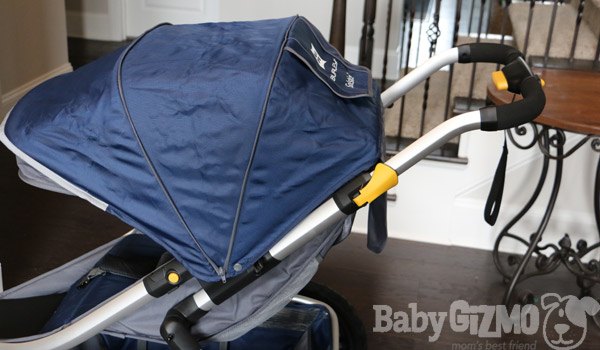 Sure, it has a big basket but they clearly like to go BIG with the Solstice because the canopy is giant too! The canopy starts out normal, but unzip the third panel, and you are in sun-protecting business! Plus, the peek-a-boo window on top with a MAGNETIC closure makes me happy.
The handle is adjustable from 39″-41″ to accommodate parents of different heights.
WHEELS
Wheels are very important on a jogging stroller and air-filled is key! Yep, the Solstice got that memo because the 16″ rear wheels and the 12 1/2″ front wheels are all filled with air.The front wheel is a swivel wheel that can easily be locked straight for jogging with a big dial on the front of the stroller.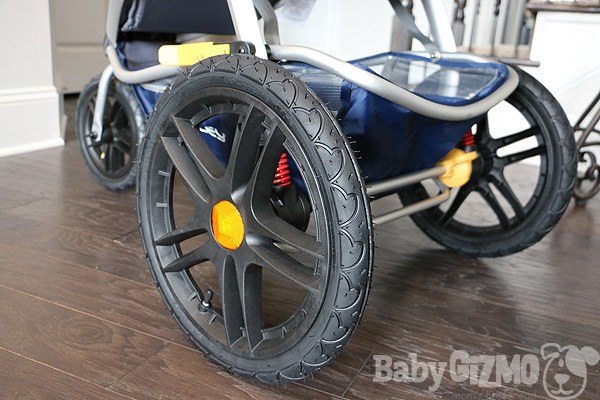 FOLD
One of my favorite features of the Solstice, besides the amazing maneuverability, is the easy one-handed fold. It folds down with a push of your thumb and squeeze of your hand into a rather compact package. Remove the rear 16″ wheels with a push of a button for an even more compact fold. Plus, it locked automatically and has a standing fold if you are into that kind of thing. I am.
The Burley Solstice comes in black, blue and green and will be available in February 2015 at REI (and REI.com) and in other baby stores and online sites starting in May 2015.