I am not an athlete. Never have been, never will be. What I am though, is determined. And for quite some time it has been in the back of my mind to run a 5K. Mostly, just to see if I could and you know what I learned on Saturday – I can!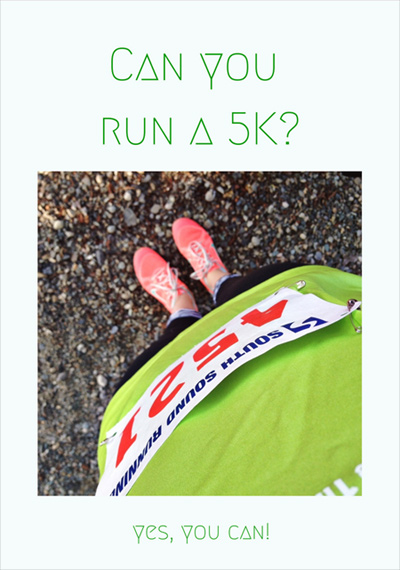 Have you ever wondered if you too, can run a 5K?
Well, I'm hear to tell you, that yes, yes you can and it's actually quite a bit easier than I originally imagined. Easier being somewhat of a relative term. Here's what I recommend before you get started:
Sign up for a 5K
There is nothing more motivating than a deadline – so, pick a race about 2 months out from the beginning of your training.
Commit to a training plan
Us mamas live by schedules, right? That applies well to 5K training! I used this app which requires 3 runs each week for 8 weeks.
Gather your supplies
Knowing our family's schedule it was not possible for me to fit in 3 solo runs each week so I committed to this race being with my double stroller. Thus, all my training was with the stroller too. It took a little more organization to do this with the kids, but we managed. Supply-wise, whenever we went out we took the stroller, water bottles for all and headphones. Sometimes the kiddos chose a stuffed animal or simple snack for the ride too.
Take care of yourself
For me, this meant good shoes, a supportive sports bra, Deep Blue Rub and a variety of terrain. Early on I learned that my knees couldn't take the constant pounding of the street pavement so I started mixing in track runs at the local high school. And honestly, those were my favorite because with the stroller it just felt safer to be on the track. Deep Blue was a lifesaver – nothing got me through the rough second and third week as my body learned to run without screaming at me.
Have fun
5Ks are all about having fun. Especially if you're doing it with your kids in tow. I only had two goals for my first run – 1) complete it and 2) take a proud sweaty mama photo when I crossed the finish line. I did both!
Now that I've got one 5K done I'm feeling the itch to keep up my running – it's true, it does get kind of addictive! We're sticking with the fun of it all and our next race will be a costumed one in October!
Are you a runner? What tips do you have for newbies starting out on their first or second 5K?
And, if a 5K is on your mind, but you have questions – don't hesitate to ask! I'm not an expert, but I'm happy to share the little I know!
P. S. Here's a peek at my Mother Runner playlist!