Celebrating the Fourth of July with a Toddler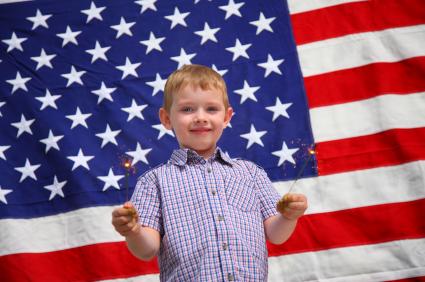 There are two conversations I truly do not enjoy having with another person – talking about the weather and talking about how fast time is flying by.
But, hey! It's hot out, and can you believe it's already almost July?! 😉
For real, maybe it's just me, but I can't believe we're already in summer. Maybe it's the fact that I'm chasing my toddler around while carrying a six month pregnant belly as well!
So, July. Barbecues. Swimming pools. Fireflies. Fourth of July!
I love this holiday. Well okay, so I love ribs, cheeseburgers, pasta salad, floating around a pool, fireworks, and I happen to look great in the colors red and blue. But it's all the same, right?
Life has certainly changed since my son came into the picture and celebrating holidays is no exception. It's a lot of work to make a holiday special with a toddler and we certainly require a few more breaks. But that doesn't mean the Fourth of July isn't fun! Here's how we celebrate now:
– I start with a cute, festive outfit. By getting a dolled up in a patriotic – themed outfit, I feel like it starts the day out on the right step. (Every store and every brand has options – but if you're curious, here's this year's t shirt for him.)
– I bust out the cookie cutter to make star-shaped pancakes. If I'm feeling extra nice, I'll sprinkle some red white and blue sprinkles / jimmies (depending where you're from) in the batter to make them extra festive. My local Wegmans carries this mix in their candy section but I'd imagine they're pretty widely available this time of year.
– Major sigh, but we're on a big Play-Doh kick right now. To celebrate the Fourth of July we will spend some time rolling out "fireworks", cutting stars (reuse those star cookie cutters!) and recreate a flag – or, basically, make 'snakes.' Bonus points if you only use red, white, and blue Play-Doh!
– After our morning play time, we're likely to hit up a local Fourth of July parade. We have a few within 15 minutes of our house. Hopefully you do, too!
– It's almost nap time! Hooray!
– Once he's up, we'll head to a family member's pool to swim. If you don't have access to a pool, an inflatable kiddie pool, water table, or local splash pad will do the trick.
– Time to barbecue! Is there anything better? To make it extra special for my son and other kids that are present, I like to make spiral cut hot dogs. How cool do these look? (Here are the super simple instructions.)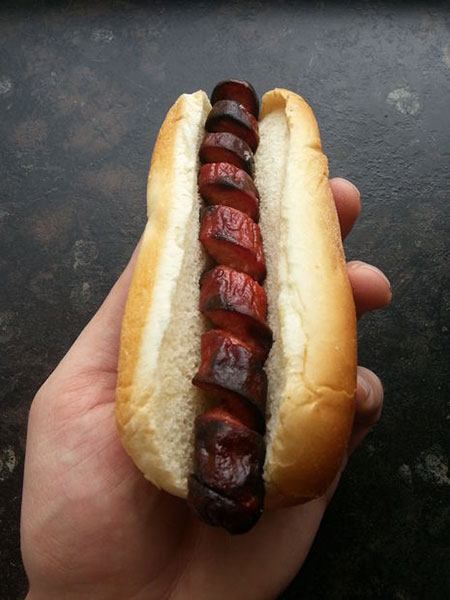 – There's no better way to finish off the Fourth of July than with fireworks. I prefer camping out with others at our local fireworks (as opposed to the at-home variety). An ice cream truck is usually present and we round out our night with either a snow cone or an ice cream cone 🙂
How do you celebrate the Fourth of July with your family? Please share in the comments section!