Chain Restaurants with Fun Kids Menus
My husband and I are brave. We regularly venture out to restaurants with our nearly two-year-old twin boys in tow. Granted, the eateries we visit with the twins are generally chain establishments with wacky décor, lots of noise, and balloons handed out at the end of the meal. And I've noticed something about the kids' menus at these places—when you've seen one, you've pretty much seen them all. How many hamburgers, hot dogs, and chicken nuggets can a child eat?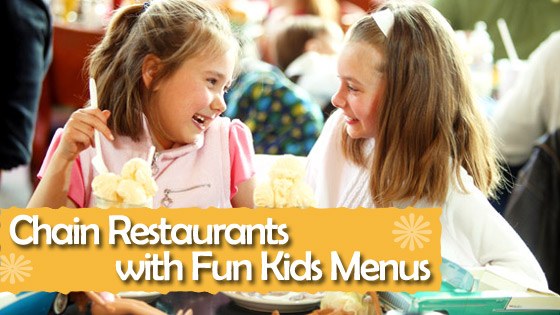 Luckily, there are some family-friendly chain restaurants that offer kids a little something different. We rounded up seven great choices for your next family meal out. Some of them are even part of the National Restaurant Association's Kids LiveWell program. Participating restaurants commit to offering healthy meal options for kids. (Go HERE to learn more about the program and to see a full list of participating restaurants.) The LiveWell participants in our list have a star next to their names.
Benihana
Tiny diners at this Japanese Hibachi steakhouse chain can enjoy a complete, nutritious meal. Child-sized portions of Hibachi chicken, steak, shrimp, or a combination of two of those come with a shrimp appetizer, a salad, vegetables, steamed rice, and ice cream.

Chevys Fresh Mex*
In addition to traditional American favorites, kids can eat Mexican dishes such as fajitas, quesadillas, and bean and cheese burritos. LiveWell menu items include chicken or beef soft tacos with a side of sweet corn tamalitos, grilled veggies, or carrots and celery.
Denny's*
At this national diner chain, kids can order fun, junior-sized smoothies including the Groovy Mango Smoothie, the Strawberry Banana Bliss Smoothie, and the Sweet Georgia Peach Smoothie. For little sports fans, there's the Softball Pancake with raspberry-sauce stitching.
IHOP*
All of the breakfast, lunch, and dinner items on this national pancake chain's kids' menu are under 600 calories. The most fun choice is the Create-A-Face® Pancake—a buttermilk pancake with strawberry eyes, a whipped-cream nose, and a mouth made out of banana slices.
P.F. Chang's
This Asian bistro offers kids wholesome options including honey chicken, sweet and sour chicken, lo mein noodles, chicken fried rice, and a Baby Buddha's Feast—snap peas, carrots, and broccoli served steamed or stir-fried. The fried rice and Buddha's Feast can also be prepared gluten-free
Rainforest Café
While the kids' menu here includes the usual suspects, they do have fun, animal-inspired names to fit the restaurant's rainforest theme. There's the Python Pasta (pasta with alfredo, butter, or marinara sauce), the Gorilla Grilled Cheese Delight, and the Rainforest Rascals (char-broiled mini burgers), for example. Kids craving something a little different can order the Mini Mojo Bones—St. Louis-style pork ribs.
Ruby Tuesday
The kids' menu items are pretty standard, but little diners can opt to build their own meal from this chain's "Create Your Own Garden Bar." It includes various greens, cheeses, veggies, dressings, and other salad fixings, plus pasta and potato salads.