Do you have a chubby baby? My son was over 10 pounds when he was born and now, at 15 months, he has tipped 30 pounds on the scale so I feel like I'm constantly buying the next size up! My daughter was the same way when she was young so I feel like I've made the rounds in searching for cute and comfortable boy and girl clothes. Here's a round up of some of my all-time favorites …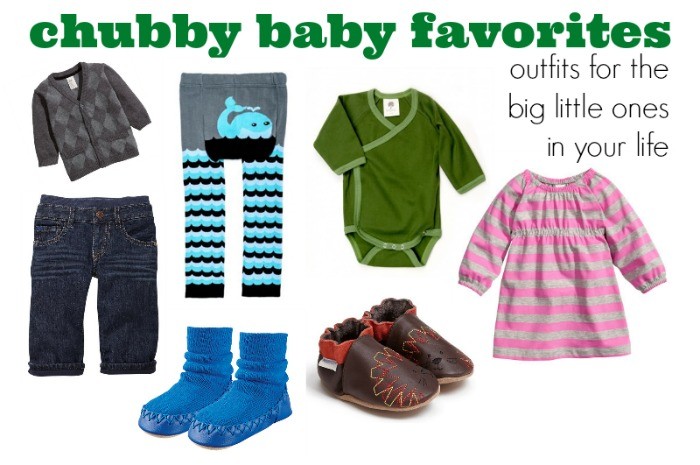 Clothes from H&M seem to run big making them a definite hit for chubby little ones. When my son is usually a 24 month-3t in one brand, he'll be in 9-12 month or 12-18 month in H&M depending on the piece. The same happened when my daughter was young. For girls, I adore H&M's dress selection and for boys, you can't go wrong with their hip cardigans.
Bodysuits from Kate Quinn Organics have been a long time favorite of ours. They seem to have lots of extra wiggle room which works just right for full bellies!
Leggings from Doodlepants are a chubby baby must! With ample rolls, sometimes stiff jeans just don't cut it, leggings on the other hand (or should I say leg?!?) are a comfy fit for those round thighs.
If you do need some "real" pants, look for ones with a knit waist – so much gentler on chubby tummies! These pants from Baby Gap are my go to for my son and the little girl versions are to die for!
Chubby little feet need room to wiggle and structured shoes can be a real struggle! That's why we've fallen in love with Freshly Picked moccasins and Robeez crib shoes. They're both great for early walkers, even those babies who don't have shoe fitting problems. Oh, and I have to mention Hanna Andersson's Swedish moccasins – they're fabulous too – super soft and comfy, but my husband thinks they're a bit frumpy for wearing out and about. But sometimes comfort has to win, ya know?
What are your favorite clothing pieces and stores to shop at to accommodate those chubby little baby rolls? Leave us a comment and let us know!