Looking for a fun way to entertain and bond with your little one? Try taking a class together! There are many national chains that offer music, movement, art, and other classes for children and their parents or caregivers. Prices vary by location, and most programs offer a free introductory class. You can also participate in free children's programs at your local public library.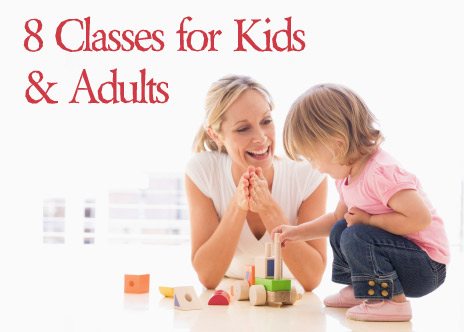 Here is a list of some national chains that provide classes for kids and the grown-ups who love them:
Gymboree Play & Music:
For more than 30 years, Gymboree has been providing early childhood development classes for kids ages 0-5. Over 550 locations in 30 countries offer "play and learn", music, art, sports, and school skills classes. Classes are designed in 6-month increments to meet kids' unique developmental abilities, and they include parents until age 3. Memberships also include Open Gym times, when you can bring your children to free-play on Gymboree's play structures, designed by a nationally-respected playground designer. Learn more and find a Gymboree near you at gymboreeclasses.com.
Kindermusik:
Kindermusik has provided music education for more than 30 years to over 1.5 million families. With locations in more than 70 countries, Kindermusik offers age-appropriate music and movement classes for kids ages 0-7 and their parents and caregivers. Classes include singing, movement, instrument play, story time, and more. Go to kindermusik.com to learn more and to find a location near you.
The Little Gym:
Since 1976, The Little Gym has offered learning and physical development classes for kids ages 4 months through 12 years. Parent/child classes, for kids up to 3 years old, take a three-dimensional approach to learning that includes movement, brain development, and building social skills. Classes for older children include gymnastics, sports skills, karate, and dance. During the summer and school vacations, kids ages 3-8 can attend day camps at The Little Gym. Many of the 300 locations worldwide also offer Parents' Survival Nights and structured Practice Times. Click here to find a location near you.
Music Together:
Music Together is an internationally-recognized music and movement program for children ages 0-7 and their parents or caregivers. Started in 1987, Music Together introduces children to the pleasures of making music instead of passively receiving it. There are mixed-age classes, baby classes, preschool classes, and Big Kids classes. There are also guitar classes for adults, and some locations offer classes specifically designed for children with special needs. Memberships include award-winning CDs and other materials for home use. Find your local Music together class here.
My Gym:
Open since 1983, My Gym offers classes that help children ages 6 weeks through 13 years develop physical, cognitive, and emotional skills. Age-appropriate classes at My Gym's hundreds of locations—located in more than 30 countries—incorporate music, dance, relays, games, gymnastics, sports, and more. Parents participate with kids up to age 3 1/4. My Gym also offers art classes for kids ages 3-8 and cardio classes for those ages 7-13. Many locations also provide Free Play sessions, karate/martial arts classes, camps, and Parents' Nights Out. Click here to find your local My Gym.
Public Libraries:
Most public libraries offer free, weekly story times. Many also offer other free programs such as puppet shows, art classes, movie screenings, and more. Visit your local library—or check its website—to get a schedule of children's programs.
YMCA:
The YMCA is the nation's leading nonprofit committed to strengthening communities in the areas of youth development, healthy living, and social responsibility. For nearly 160 years, the Y has provided programs that build spirits, minds, and bodies. Programs for kids include sports, swim lessons, educational classes such as writing and science, camps, and more. There are 10,000 locations across the U.S. Monthly membership options and fees vary by location. Find your local Y here.
Young Rembrandts:
Founded in 1988, Young Rembrandts is an art education program that teaches drawing to thousands of students across the U.S. and internationally. The program partners with pre-schools, elementary schools, and community centers to augment or supply their art education programs. The curriculum is designed so that a child can be enrolled from pre-school to 6th grade and never repeat a lesson. Preschool programs serve kids ages 3½ to 5, and elementary programs serve kids ages 6-12. Click here to find a Young Rembrandts class near you.
Do you attend any of these programs with your children? Or, do you go to a different one that we missed?