The long heated debate on co-sleeping: everyone has an opinion, everyone wants to do what is best for their baby. Whatever your opinion on the subject, I will start by saying I am a firm believer on to each his own when it comes to this. What works amazingly for some parents and babies may not work at all for others, and that's perfectly okay!
I wasn't planning on co-sleeping with my son, it just happened. We would nurse at night and he just ended up staying in our bed. Night after night until he was three years old. Me thinking I would never co-sleep turned into co-sleeping for three whole years. You can't plan everything, folks, but co-sleeping worked for us. It was easy and we all slept well night after night. My son is now four years old and in his own bed in his own room. The transition proved to be a bit challenging for us at the very beginning when he was getting adjusted to his new bed and new room, but it really wasn't anything a bedtime kiss and story wouldn't fix. We've got another baby due to arrive the end of September and right now I'm saying we won't co-sleep but I have to laugh a little when I say it because I very well could be co-sleeping for another three years with this one, too!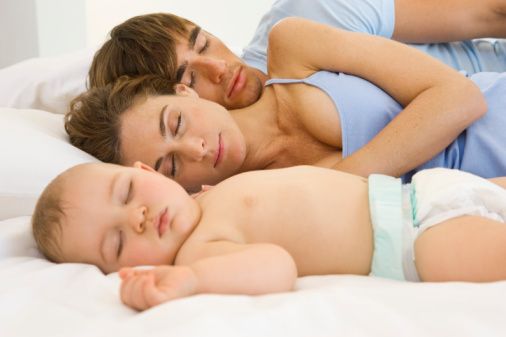 Let's break down some pros and cons of co-sleeping. Please note: Not all of the pros will be pros in your opinion and not all of the cons will be cons.
Pros of co-sleeping:
Sleep more peacefully. Infants who co-sleep tend to startle less and cry during the night.
Studies show that infants who sleep near to parents have more stable temperatures.
Encourages breastfeeding by making nighttime nursing more convenient.
This in turn lowers the risk of SIDS, as breastfed babies wake more frequently to nurse.
Helps a nursing mom get her sleep cycle in sync with her baby's.
Builds an intimacy between parents and baby.
Cons of co-sleeping:
Could mean less sleep for you if your infant tosses and turns and makes noises at night.
Potential problems later on. It could make for a hard transition when your child is old enough to move into their own bed in their own room.
Poses risks if either parent is intoxicated, as they can roll over onto the baby and cause suffocation.
The "average age" a child will stay in the family bed is 3-4 years. This may be too long for some.
Interrupted or no alone time for you and your significant other.
When it comes to co-sleeping, I always recommend going with your gut and doing what is best for you and your family. Do your research and weigh the pros and cons but ultimately, make the decision based on you, your partner, and your baby's needs. There are great co-sleepers available on the market now like this one, so that baby stays next to mom in a safe space. Most importantly, keep an open mind and go with the flow.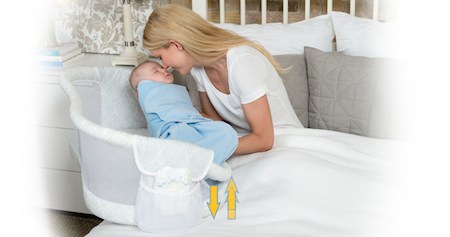 Did you co sleep with your children? What are some pros and cons you would add to our list? We want to hear from you so leave us a comment below and let us know!