A Collection of the Best Rain Boots
I promise I don't mean to sound like a know it all … but, when it comes to rain boots, I know a thing or two.
You see, I was born and raised in the state of Washington. It rains here, a lot. We do rain boots here and we do them well. Dare I say: we ladies in Washington were the ones who turned functional rain boots into a fashion statement!
In my day I've had cheap rain boots, pretty rain boots, work horse rain boots, and expensive rain boots. Different ones call for different activities and in most cases I aim to have a pair fill at least two of the above requirements – cheap and pretty, pretty and expensive, cheap and work horse … you get the idea 🙂
Anyways, seeing that rough weather is hitting most of the country, I figured new rain boots might be on a few of your Christmas lists. After years of testing boots in puddles and constant downpours I'm here to share my top picks! These four brands hold up, look great, and will see you through many winter seasons.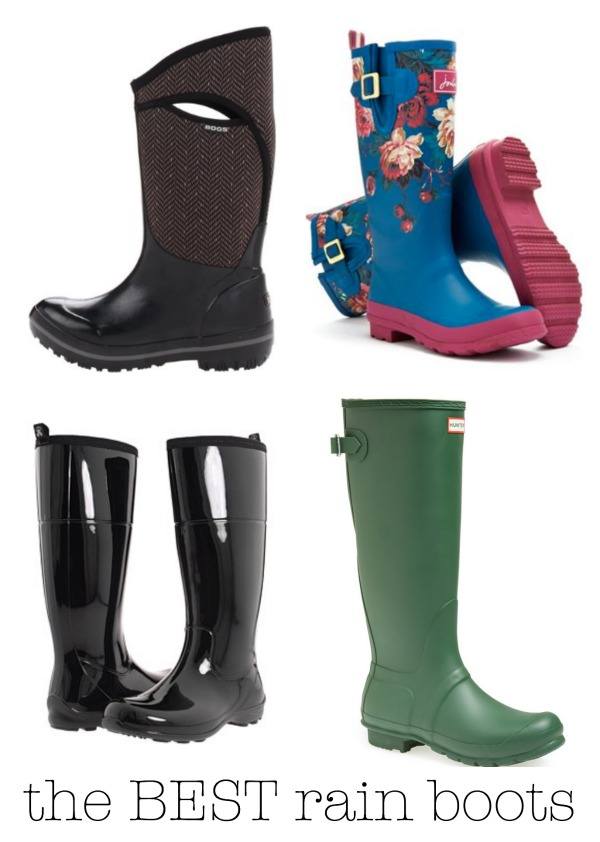 Bogs Women's Plimsoll Tall Herringbone Boot ($135) –  Joules Invite Floral Maya Blue Wellies ($69) –  Kamik Ellie ($65) – Hunter Original Tall Rain Boot ($148)
Hunters are so classic and come in the greatest colors, plus free shipping and returns if you buy at Nordstrom! Joules has such beautiful prints and ribbon touches. And both Kamik and Bogs are sturdy with a hint of fashion – shiny black and classic herringbone. Love them all!
What rain boots do you love best? Leave us a comment and let us know!