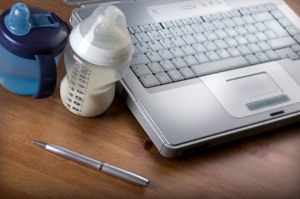 One year. It's been one year since I've rejoined the workforce. It was hard to pry myself away from The Bee (literally, I was a breastfeeding machine!), but I had no choice as my dear hubby got laid off when The Bee was 3 months old and we decided it would be best that he stay at home with The Bee while I supported the family. Hey, if families of the world have been doing it this way for years, so could I! But…I think I tend to put a lot of un-due pressure on myself. So if you don't mind, I'd like to take a few moments, unwind and get a few things off my chest.
Confession #1: I secretly like being at work.
You know what my first thought back on the job was? ADULT CONVERSATIONS! I mean there was only so much I could talk about with my hubby, right? And, as much as one-sided conversations were nice, I like having two-sided conversations more. I like getting away from the house because it gave me purpose: Showering everyday! Later on, I also like not having to deal with poopsplosions and mac-n-cheese-turned-hair-gel.
Confession #2: I also secretly HATE being at work.
I know, it doesn't make sense. After all, I just got through telling you that I like being at work. But, I'd rather be home with The Bee simply because I feel like I miss out on a lot. I always have to keep in mind that, hey, just because someone else saw him do something first, doesn't mean that when I see him do it, it isn't "the first time" as well. Right? Which, by the way, I witnessed The Bee's first steps while hubby was outside mowing. HA! Something I can take with me forever.
Confession #3: I hated pumping
The Bee got a few good months out of me, 8.5 months to be exact. But goodness! Trying to remember that you needed to pump in the middle of a deadline wasn't fun. Plus, that droning pumping sound always made me drowsy. Then I had to be mindful of the time and then when all was said and done, I wasn't getting a lot out of one and barely enough out of the other?!
Confession #4: I'm jealous of the time that my hubby gets to spend with The Bee
Sure, as much as I avoid doing the dirty work, how lucky are we that we have a parent at home to take care of The Bee? Most of the moms and dads I work with aren't able to do that. Aside from saving on daycare costs, (which, by the way, I don't know how you guys do it. It's like the cost of private school tuition here!), it's kinda neat that my hubby gets to bond with him during this time. Although, I AM a bit miffed that The Bee still calls both of us Da-Da…
And lastly, Confession #5: The best time of the day is when I put The Bee to bed
Between night wake-ups, early mornings, working all day, coming home to a needy child, cooking dinner and finally being able to relax, I hate to say it, but I really cherish the time I spend putting The Bee in bed. It's nice to know that from bathtime to bedtime is dedicated strictly for me and The Bee. Even the hubby doesn't bother us during our time. It's my time to for him to babble incoherently about his day to me and for me to sing to him my wishes and just bond for the little time I get with him. It almost makes up for being away for most of the day!
I think that's all I have to get off my chest…for now!