In her elementary school years my sister put cartoons behind her and started dialing into the Food Network. Every morning at breakfast she would sit on our bar stools munching her cereal and watching the latest episode of Emeril or Rachel Ray. She'd take note of their meals and beg my mom print her to recipes and take her to the grocery store. At the young age of seven, she was already a foodie.
Today my sis is what I would consider the ultimate homemaker when it comes to kitchen skills – she wields a blow torch for creme brulee and serves up stuffed chicken breasts like they're as easy as a freezer lasagna. It's a good thing her husband has an active job or else he'd have some spare pounds to deal with thanks to her fabulous cooking.
My point of all this? The love of cooking begins young. If you see a glint of a little chef in your child – grasp it and run. Run to the grocery store. If you're lucky, your offspring will be serving you dinner by the time you're 10! That's what happened in our family!
Inspire those little chefs with a cookbook or two just for them. Here's a few to consider …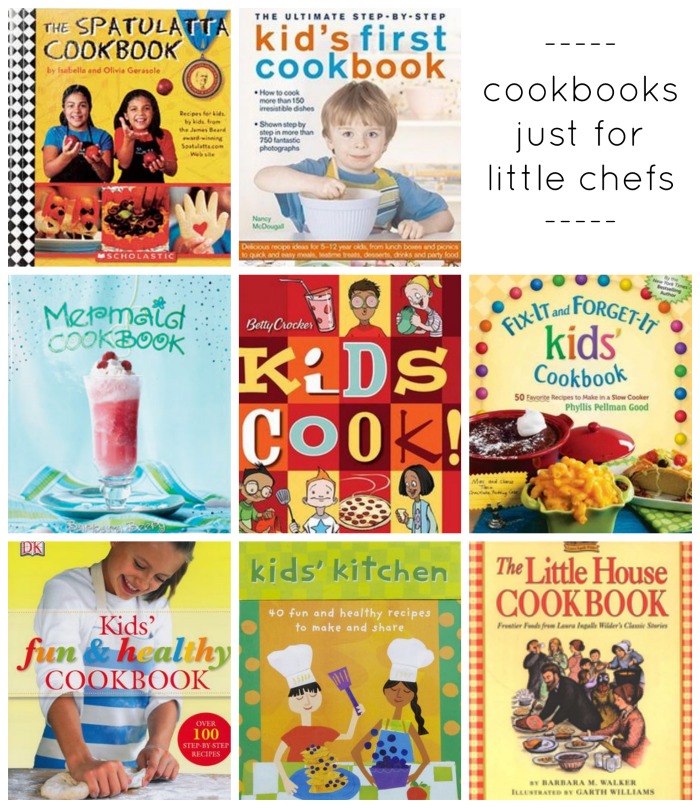 The Spatulatta Cookbook | The Ultimate Step-by-Step Kid's First Cookbook | Mermaid Cookbook | Betty Crocker's Kid's Cook! Fix-It and Forge- It Kids' Cookbook | Kids' Fun & Healthy Cookbook | Kids' Kitchen | The Little House Cookbook
Do you have a little chef at home? What's their favorite thing to cook?