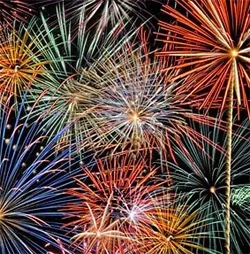 Growing up, my family would go to see fireworks on the Fourth of July. No matter what the weather looked like or the amount of traffic that would meet us as we drove our huge minivan into the "big city," we saw fireworks every year until I was about 18. Towards the end, it came to be something that we kind of dreaded, but in the beginning, as a child, seeing fireworks was awesome! I loved it and the heat and the crowds, the large crowds of mostly tall(er) people.
I didn't know it then, but now I realize that that was our tradition. We didn't really call it a tradition then. But I know now that that's what it was. Our tradition. That was the thing we did out of obligation to each other and the holiday.
Now that I have my own family, I've been making more of an effort to intentionally create and call what we do around holidays, our traditions. Our traditions on the Fourth of July are perfect because they are our traditions, no one else's.
So what are my family's Fourth of July traditions? Well, they include waking up to a nice breakfast, good food, lots of family time, and pictures, lot of pictures.
These are our traditions, but what are yours? Does your day include fireworks?
If you want to create your own Fourth of July traditions, here are my tips on how to do so:
#1 Think about your family. Is your family really into music or great food or something else? When creating your Fourth of July traditions, incorporate those things into your traditions.
#2 Be creative. There's no right or wrong way to create a family tradition. Think outside the box, get inspiration from Pinterest, and make it happen!
#3 Include your children in the process. Fourth of July traditions are made to be enjoyed by all of your family, so be sure to get the input of your children and spouse when making your traditions.
The most important thing to remember in all of this is that Fourth of July, as any other holiday, is made to be enjoyed on your terms. Have fun and don't stress! Happy Fourth!