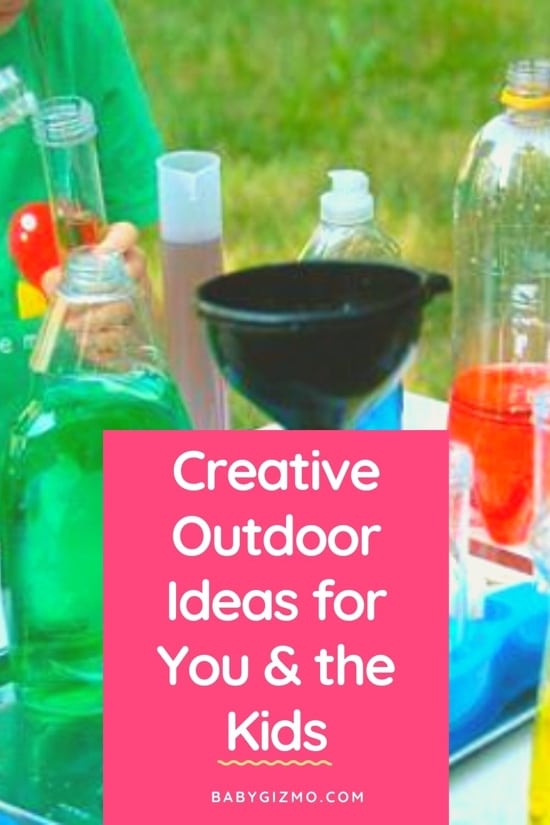 Spring is in the air. Can you feel it? I love this time of the year. It is my first Spring as a mother of two toddlers and I have spent a lot of time scouring the web for some cool ideas for outdoor fun. We enjoy the usual activities including taking walks and hanging out at the playground but I needed a little boost of creativity.
Here are some creative outdoor ideas for you and the kids to enjoy this Spring:
A simple yet cool idea for kids. Fill a bunch of random bottles of varying sizes, grab some plastic funnels, droppers, water, and food coloring and create your very own outdoor lab. You can tailor this to your child's interests and it is so cheap! Set it up with whatever materials you have at home. I love adaptable activities. My 2 year old would be so enthused to try this out. He thinks science is the coolest and my one year old loves to make a mess. Everyone wins.
Sidewalk chalk is inexpensive and easy to find but for some reason my kids tire of it quickly. They'll take the sidewalk chalk and draw on the leather chaise, the indoor chalkboard, and the walls but not the sidewalk. It is such an enigma. Sidewalk paint was the solution to my weird chalk conundrum.
Mix one cup of water with one cup of cornstarch, pour into a muffin tin, add some food coloring, grab some brushes, and get artsy. I use Wilton food coloring gel (I also make watercolors with this food coloring too) and the colors are really bright. The kids love it. My favorite parts are the easy clean up and watching the kids show off their masterpiece to daddy when he gets home.
Pine Cone Bird Feeder
We make these all the time. I had to buy a huge bag of bird seed (it wasn't expensive but I don't want to waste it) in order to make these but it was worth it. Take the kids out for a walk, gather pine cones, and then turn them into bird feeders. Then watch all the beautiful birds gathering to eat each morning.
My kids love everything about this activity from hunting for the pine cones to making a huge mess with the peanut butter and seeds (be careful with the seeds my one year old tries to eat them all the time). I enjoy watching my son peering out the window while eating his breakfast and waiting excitedly for the birds to arrive. It is such a sweet way to start the morning.
Have any cool suggestions for getting outside with the kids this Spring?