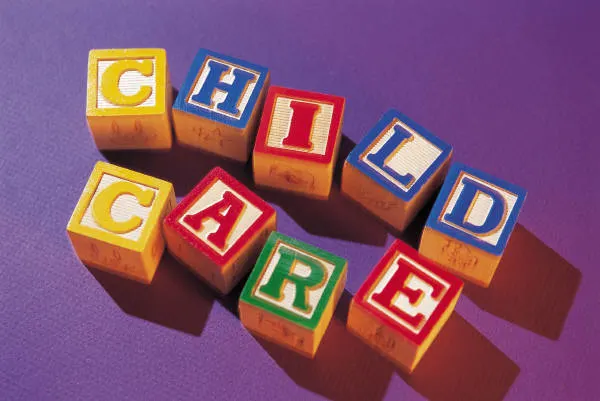 Who knew you had to start looking for a daycare so early? Little Bud was 4 weeks old and I was searching for a daycare to put him in when I was scheduled to return to work in a couple of weeks. Every response was the same…he could get on a waiting list, but no one had an opening for a newborn.
I have to admit that after I was turned down for the millionth time, I was starting to freak out. So pretty much every reputable childcare center in my area was already full?!?! Sure – I should probably not have waited until the last minute, but my mind was on other things! The mommy handbook never mentioned that I needed to start my search when Little Bud was just an embryo! I was already stressed out by the mere thought of leaving my precious little bundle with a group of strangers I hardly knew.
As with many families today, the reality was that we are a 2-income household. I HAD to go back to work, that is, if I wanted to continue to pay my mortgage, and I've heard that those bankers can get pretty testy if they don't get their check each month! We went through all the referrals for good daycares given to us by friends – nothing there. We finally resorted to flipping through the yellow pages, frantically calling each center that was reasonably close to my daily route to work.
At this point, I was getting pretty desperate. Either I found something fast, or I was going to have to sneak Little Bud to work and stash him under the desk in my office (KIDDING!). Thankfully, grandma was able to pull a few strings and get Little Bud into a wonderful center where a good friend is the director – Phew! Fast-forward to that first dreaded day. I was already teary eyed as I carried my babe into his new daycare, armed with enough diapers and wipes for an entire month and bottles enough to feed his entire class for weeks (no harm in being prepared, right?).
Daddy and I had already pre-toured the nursery and knew what to expect. Little Bud's caregiver was a grandmotherly little lady who looked like she had probably rocked hundreds of babies to sleep over the years. She already had his bed made up and his diaper cubby all decorated. Maybe this daycare thing wasn't so bad after all? Sure, we've all hear horror stories and no one will ever care for your child like you do. However, now that's he's over a year old and I'm finally just now getting comfortable with leaving him, I can honestly say that it's not really all that bad.
OK, OK. So there are things that I both love and HATE about daycare. If you're a first time parent trying to decide what's best for your family's childcare needs, don't freak out. Here are some pros (and some very real cons) to keep in mind…
The Good
Socialization
In a daycare setting, your child will be exposed to other children on a daily basis. They will learn the ever valuable lessons of sharing and peer interaction. They will likely have the chance to interact with children from other cultural backgrounds as well.
Routine
I will be the first person to admit that I am horrible about schedules. I am and will always be a fly by the seat of my pants type of person. I know that children need a set routine in order to feel secure. However, I am just not that great about keeping up with a routine. Daycares are awesome for this. Little Bud eats breakfast, lunch, and snacks at a set time. Even on the weekends, he is ready for nap at 12:00 sharp. This helps me plan my days since I can schedule my errands around nap and snack time.
Activities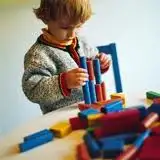 I was so proud the first day Little Bud brought home his first "drawing". It didn't matter to me that it was just a messy scribble on construction paper. I have that picture on desk, showcased like a Picasso. Each day at pickup time, his teacher hands me the agenda of what they did that day. I know specifically what he ate, what time he was changed, and what activities his class did.
State Certification
This is a biggie. All reputable daycares will be state certified (make sure to check!). This means they have to adhere to a set of guidelines put in place by that particular state's licensing agency. Everything from immunizations, cleanliness, and teacher-to-child ratios are strictly monitored and enforced. This definitely makes me feel better about daycares!
Availability
My daycare is open 5 days a week from 6am to 6pm (expect on pre-determined holidays). I never have to worry that my nanny can't come that day due to being sick, or grandma not being able watch the kiddos due to her vacation cruise. I never have to worry about having a backup plan.
THE BAD
Limited Staff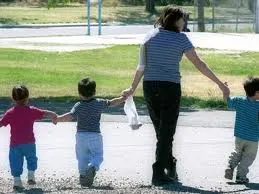 In Kentucky, the ratio for newborns is 5 babies to every one worker. That means that in Little Bud's class of 10 babies, there were 2 teachers at all times. I would have loved for him to get the same one-on-one care that he gets at home, but that just isn't going to happen. I nearly lost it the first time I heard Little Bud crying in the swing when I came to pick him up. His teacher was changing another baby's dirty diaper, so she wasn't able to get to him right then. Keep in mind that there will be more children than workers, and try to be understanding if at all possible.
Loss of Control
Every parent likes to be able to control most aspects of their children's upbringing. We all have very specific ideas on how our children should be cared for, when and what they should eat, and what they come in contact with. Daycare providers often have very different feelings! Keep in mind that you are going to have to give up some measure of that control during the day. Everyone's parenting style is different, including the people who interact with your little one during the day.
THE ULGY
Sickness
This is by far the ugliest part of childcare. If you have to leave your baby with a daycare facility, be warned. Your baby will get sick – a lot! This last year, I have gotten to a first name basis with our pediatrician. I was there almost often enough to have my own coffee cup in the break room. My daycare is excellent about keeping things clean and sanitized, but here is the ugly truth. All the babies will inevitably gum and drool on the same toys. The swings, highchairs, and bouncy seats are community property. If one child gets a stomach bug, chances are that they will all eventually have it. There is one bright side though. If you can make it past the first few years of constant sickness, your child will no doubt develop a strong immunity system.
Cost
This one was definitely a shocker to me! Our monthly daycare bill is almost enough to make me cry! I am more than willing to pay for quality care, but I was blown away by how much it really costs. I have several friends who have opted to quit work and stay home due to this fact. It may be cheaper in the long run, so make sure to look at all of your options before deciding.
So there you have it; the good, the bad, and the downright ugly of daycare. There are days I really love my daycare and times I want to pull my hair out in frustration. It may not be the ideal situation for everyone, but for many working moms and dads, its the only option we have.