Dear Husband,
You know I love you and you know how important communication is for our marriage. So there's something I need you to understand: Being a stay at home mom is my "job," but it's not a job you can compare to yours at the office.
I work all day long. I have no vacations or weekends or sick days off. The only time I get a real break is when I can transfer all child and house responsibilities to you and even then, that's usually only for a few hours in one day.
My "job" is to keep the kids alive, balance our finances, clean and keep organized our home, do chores, and run errands (to name a few). These errands include all the little tasks your brain doesn't even have to register because I'm here to take care of them for you. These errands include not only the big things like grocery shopping, but the obscure necessities, like getting our tires rotated at the same time as our oil changed and then picking up a birthday card to send to your mother so she knows we are thinking of her. My "job" as a SAHM is to make everything behind the scenes of your "real" job function without a hitch so you don't have to worry about it while you're out being the breadwinner.
And I'm perfectly fine with having left my career to enter the job (and joy) of being a SAHM! We talked it over, we decided on it, and I was excited to make this adjustment. But I still want you to understand a few things about how my job differs from yours:
I don't get paid in money. When I do well at my job, I don't get a bonus at the end of the year. My bonus is getting $50 extra leftover at the end of the month because I did my job in budgeting correctly and buying on sales whenever possible. And since I don't bring in a paycheck, it makes me feel guilty for anything I have to buy that is solely for myself. That's why I still have the same hair straightener going on its eleventh year and being held together with Scotch Tape.
I don't have a supervisor. Your managers and higher-ups are there to help guide you. They mentor you, offer praise for a job well done and give constructive criticism when needed. You are told what you're doing wrong in a helpful manner and are given suggestions on how to do better or how to make your job easier. You get to work your way up, rising in the ranks and getting promotions that, once again, verify how well you do your job. I don't have anyone or anything like that. I wish I had a manager who could teach me how to coupon better or consolidate my errands. I wish someone "higher up" could tell me strategies on how to calm a screaming toddler while in a grocery store. I have to discover as I go, making a million mistakes before figuring out what works and what doesn't.
I don't get to leave my work at work. My office is my house. My computer is where I write my articles and where I check my Facebook during the rare breaks I take. My kitchen is another chore to clean, as well as a place to gather with friends. Our dining table has to be cleared off and scrubbed before I can do any fun, Pinterest worthy crafts with my kids. Our bed isn't just a place where I collapse when the hard day is done. Our bed is where our toddler runs when she's had a nightmare at 2 am, and it's always to my side, not ever to yours. At the end of the day, you come home from the stresses of your job and sit on the couch, having no doubt that you earned that rest. For me, I sit down and just see all the work I didn't do during my stressful day. I never leave my job because my job surrounds me.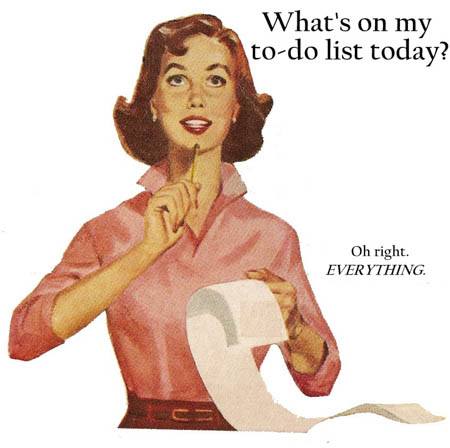 I'm not saying my job is more important than yours or vice versa; just that my rewards, payments, bonuses and recognition all come in very different ways than what you are able to experience. We both work hard and sometimes, our jobs even overlap in some ways, creating a well-oiled machine. I just hope this letter clears things up a bit so you can understand just how valuable your wife is!
Love,
Your equally-overworked Wife