Dear Moon Dough, We are Not Friends
We all are familiar with the joys of Playdoh. We played with it as kids and now our kids play with it. Sure, it can be messy but it is super fun for kids. Sure, it can dry out but it's cheap to replace. We are talking like 88 cents a container.
What you may or may not be familiar with is Moon Dough. My son received a Moon Dough Farm for Christmas. It looked fun. I thought it might be a modern type of Playdoh. Yes, it's hypo-allergenic and wheat-free. Both good things. That is where the good things stop!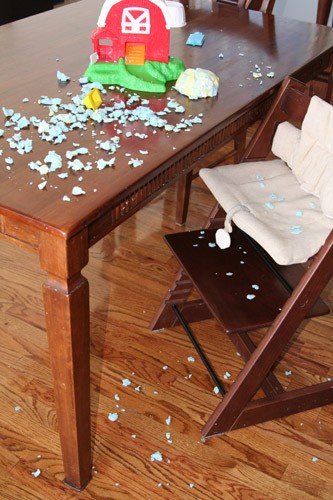 Here is how Spin Master describes Moon Dough: "It's the revolutionary new dough like nothing you have ever played with before! It's a soft, light and super smooth dough that never dries out!"
Sounds good, right? It's not. Yes, it can be fun for the kids but the messiness of it completely outweighs the fun (at least for parents!). It's a nightmare and I'm not kidding! It's a crumbly mess that can and will ruin carpets and rugs. Sure, you can have your kids play with it outside where the mess doesn't matter. That's all great for the summer! But in the dead of winter here in Chicago, that is not a possibility. I wouldn't have such a problem if the Moon Dough package stated "this is an OUTSIDE activity". It's deceiving. I would never put a water table inside for play. But Moon Dough makes you think it's like Playdoh and okay for inside play. It's not!
So, what is my problem with Moon Dough specifically? It is not like dough at all. They should really stop calling it dough. It's a really light foam-like material that crumbles very, very easily when you touch it. Not like Playdoh at all! All these little crumbles then get everywhere. They fall on the floor and pretty much float all over the place. You'll most definitely miss a piece or two while cleaning it up and your child will step in the pieces. Then those pieces will make their way to your carpet and be nearly impossible to get out. It will smash into the rug and you will try in vain to remove it. And don't even try water because that makes it worse. You'll be picking up pieces of Moon Dough for days!
My suggestion is that if your child receives Moon Dough as a gift. Throw it away! And then think about your relationship with the person that gave it to them. Had you pissed them off lately? Are they angry with you? And unless, you would like to re-gift it to an enemy, I would just make the Moon Dough disappear (into the trash!).
Now, my only problem is trying to make our Moon Dough disappear because my kids really do like it. What kid doesn't like a mess? Unfortunately, mom does not and I cannot risk ruined carpet. So, the Moon Dough has to go!
Think I'm being over dramatic about the Moon Dough? Go out and pick up a package of this "revolutionary dough" and let me know how it works out for you. 🙂