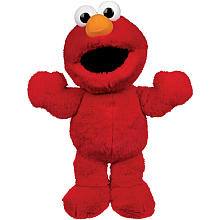 Dear Tickle Me Elmo,
I'm just going to come out and say it: I don't get what the big deal is.
First, I have yet to meet a child that isn't completely terrified of you. For the first two years of her life, Big Chick clung to my back like a baby monkey every time she caught a glimpse of you. Why do you have to be so scary?
Also, you tell really, really bad jokes. You may think you are funny because everyone is laughing along. Well, let me be the first to tell you: We are laughing at you, not with you. You know that whole "Jack and the Bean Stalk" bit? It's got to go.
I'm sure this is a sensitive topic for you, but I've got to bring it up. Why is your voice so high? By my calculations, you are about 14 years old. How have you not hit puberty yet? I'll give you another couple of years to catch up to the other boys your age before I get seriously worried for you.
And your laugh? It's the stuff nightmares are made of. I'm just sayin'.
You do have a few redeeming qualities though. I will admit that you've got some pretty sweet dance moves. And you have really nice manners. Every time Big Chick knocks you down (ok, maybe I did it a few times too), you are really gracious about it. Way to take the high road.
Despite your few positive traits, I'm sorry to say that I'm giving you the boot. You know that big garage sale I've been preparing for all week? Well, that's the day we part ways. I'm going to give you a nice wipe down and mark you at a price that can't be beat. I'm sure some unsuspecting grandparent will fall for your charming ways.
It's been really nice knowing you. Not.
Sincerely,
Morgan
– Contributed by Morgan