Deciding Who Can Attend a Birth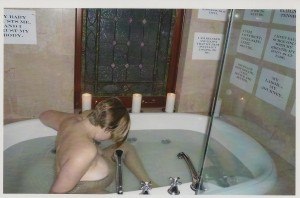 I'm somehow already entering my seventh month of pregnancy (where does the time go?), and I'm starting to give some thought to who I'd like to have with me at the birth when the time comes.
When I was pregnant the first time around, I gave birth in a local hospital. I didn't really want anyone "extra" in the room during labor or the actual delivery as I thought I might feel more nervous, pressured, etc. I think I would have been okay with my mom there, but she said she thought she'd be too anxious and would have a hard time seeing me in pain, so we agreed that she'd wait at home until the baby arrived, and then she'd hop on the subway immediately.
That's just what she did—staying in touch via my husband throughout labor (I was in so much pain I didn't want to speak to anyone) and arriving less than an hour after my son Ben's birth, before we'd even been moved to a recovery room. Because it was a teaching hospital, in addition to my OB and the nursing staff, some residents also rotated their way through the room.
And finally, we had hired a terrific doula who was also present throughout my labor. The room felt too cramped and overcrowded—especially since the air conditioning wasn't working.
When I had my second son, it was at my mom's house. We'd planned on a homebirth, but had then had to move away after my husband lost his job. Luckily, my mom was willing to let me give birth at her house so that I could continue under my midwives' care.
My mom was supposed to be there, as was her youngest sister (whom I'd asked to attend mainly to help keep my mom calm), but as it turned out, my mom was in a rehabilitation facility, following a colonoscopy necessitated by a recent spread of her breast cancer. Without her there, I didn't think my aunt needed to be there, and so it was just my husband, our doula, and my two midwives… and the three renters who subletted bedrooms in my mom's house.
Fortunately, other than passing through the hallway on the way to the upper floor where their bedrooms were, the renters didn't stick around for my labor—although one of them stopped me in tears the following day to say how powerful it had been for her to be in the house during the birth; she said that she hadn't heard much, but it was a really meaningful experience for her to be so close by at the beginning of a life.
This time around, we're more settled, living full-time in my mom's house, which is where I'm planning to give birth once again. My little brother lives in the garden floor apartment of the house, while my husband, our two sons, our au pair and I live on the upper floors.
I'm due right around New Year's, and his fiancée who lives on the West Coast is supposed to be in NYC for the holidays. Somewhat ironically, she's in her final year of medical school, studying to become an OB-GYN—and so I've offered to let her attend the birth if she's interested in seeing a natural birth outside of a hospital setting.
I'm still feeling a little mixed about whether or not I want my brother there as well (I love him—just feel a little weird about him seeing me naked at this point in our lives). One of my midwives will be there along with a birth assistant, and we've hired a doula yet again (this time one who is also a photographer, so we're hoping to have some great photos from the birth—something I wish I'd had the last two times).
I'm open to our kids being present for the birth (given that my due date is over their schools' holiday break, it's likely that they'll be around), if they want to be—although that would probably mean that our au pair (who is really interested in pregnancy and birth) will also be there. And then there's a good friend who has also offered to make it. She has two little ones of her own (via C-section) and lives about two hours away, so I'm not counting on her being there—but I'm surprisingly open to it this time around.
After wanting next to no one with me during labor before (the first time around I was really nervous because birth was such an unknown and the second time around I was kind of terrified because my first birth had been kind of traumatic, including an episiotomy and horrific tearing), I'm feeling pretty welcoming of an emotional support team and the idea that while labor is work, birth is a definite cause of celebration.
I'm excited about this birth and really looking forward to the experience of another homebirth, and I think that has definitely changed the way I feel about wanting to share it with others. I'm also open to completely changing my mind at any point about any of this—including just asking folks to give me some private space (which I think I'd just communicate to them via my husband or doula), should I start feeling overwhelmed by a crowd.
How did you decide who would be present during your labor?