I don't know about you, but my family is big on holiday decorating. Ever since I was a little girl my parents would take my sister and I to the Christmas tree yard to cut down our own tree, and we would make decorating the tree with ornaments a family event. My dad would be in charge of putting hooks on all the ornaments and the girls would hang them on the tree. Even to this day, when you walk into my parents house, you feel like you have instantly been transported into a beautiful Christmas winter wonderland in Southern California. Since my family loves decorating so much I wanted to share some ideas for you to use if you'd like to decorate your house for Christmas too!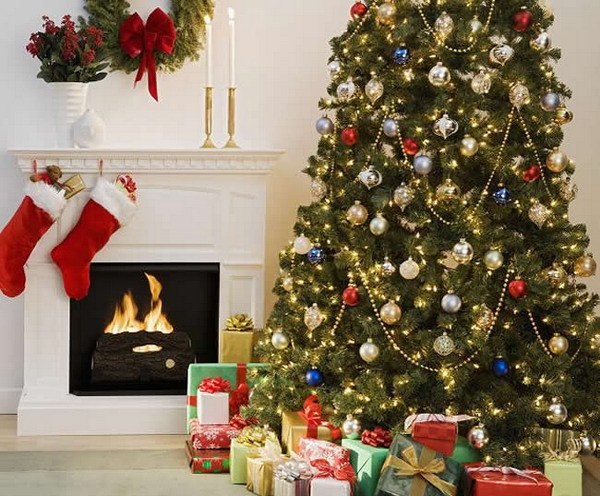 1. Get a tree and have fun decorating it. Obviously the tree is the main part of decorating but you could do it so many ways. Cut down your own tree, get a fake tree, and if you don't have a lot of room in your house, get a really small Charlie Brown tree. When my husband and I were first married we didn't have much room in our small apartment so we got a really tiny tree, a couple strands of lights, and our parents gave us some ornaments. Make it work for your lifestyle and your space.
2. Make some homemade ornaments. Whether your kids cut shapes from colored paper and color them or you bake some dough ornaments in your oven, have fun with it. Your kids will have fun crafting with you and your tree will be so beautiful and special with their art work.
3. String lights around your house. If you have stairs, wrap some lights around them. Put lights around your windows and doors. At night time, turn off all the lights and marvel at the beauty of twinkling red and green lights everywhere.
4. Make a homemade wreath. There are several ways to do this. Pick up a simple circular garden hoop from a craft store. Cover it with ribbon, flowers, ornament bulbs, or anything else you can think up. Hang the wreath on your front door, or over your TV or fireplace.
5. Hang stockings. Target, The Dollar Tree, and pretty much every store under the sun sells stockings around Christmas time for cheap. Pick up one for each member of your family. You could even personalize them by writing each family members name on them with paint or cutting them out with felt.
6. Put Christmas candy out on display. Use candy jars or glass mason jars. Fill them with Christmas colored M&M's, candy canes, or any other red and green candies.
7. Make your own garland. String popcorn and cranberries on a string to put on your tree or walls. You could also string pieces of red and green fabrics.
8. Display all the Christmas cards you receive. Get a simple piece of rope and some laundry hooks. Attatch each card to a laundry hook and string them across a wall in your house. It will instantly add some festivity to your home and it's neat to have Christmas card notes from loved ones all around your home.
9. Fill mason jars with ornaments. Get a plain mason jar from Target or another similar store and fill them with assorted colors and sizes of ornaments. Set them on shelves or bookcases for pops of color all around your house.
10. Chalkboard messages. Buy small chalkboards and have your kids write holiday messages on them like "Let it snow" or "Seasons Greetings".
What are your decorating ideas for the holidays? How do you make your house festive for the season? Leave us a comment and share some ideas.