If you are a sporty parent who likes to run, jog or walk trails but don't want to spend a fortune on a stroller to bring baby along, this stroller might be a great fit for you! The new J for Jeep Adventure All-Terrain Jogging Stroller by Delta Children is a budget-friendly option for taking your child on the road with you.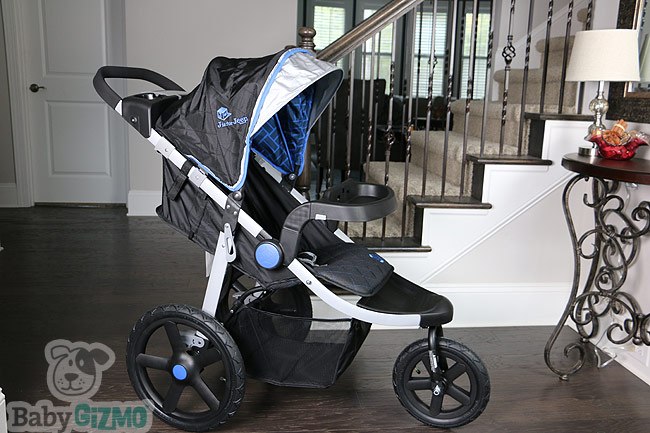 SEAT
The Jeep seat has a 50 lb weight capacity and is 14″ wide with a short 17″ seat back and a measurement of 26″ from back of seat to canopy. There is a one-handed strap recline, but since it doesn't recline flat, the stroller is suitable for 6 months and up (unless used with an infant car seat). The seat also has a padded, 5-point harness for safety and a non-adjustable foot rest.
To complete the seat, there is a large, removable, swing-away baby tray.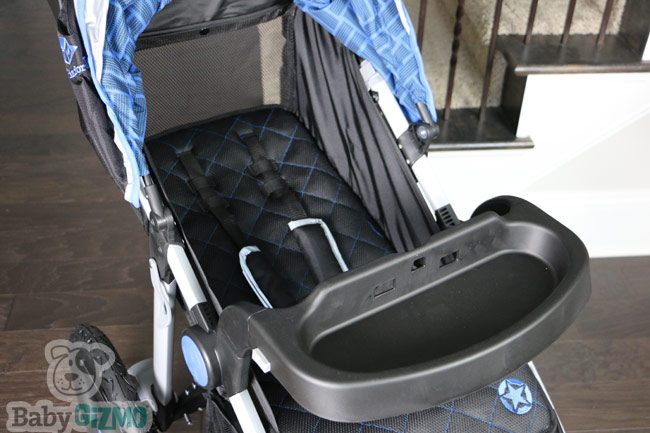 BASKET
Under the seat, we were pleased to find a large basket that is easily accessible from the back and sides of the stroller.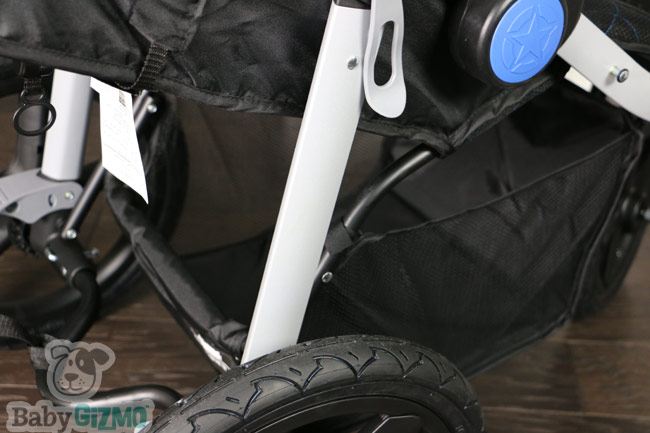 HANDLE
The foam covered, one piece handle is not adjustable but it is taller measuring 41″ from ground to handle. Many parents are going to love the large parent console that sports two cup holders and a covered container for parent essentials such as your keys, sunglasses or wallet.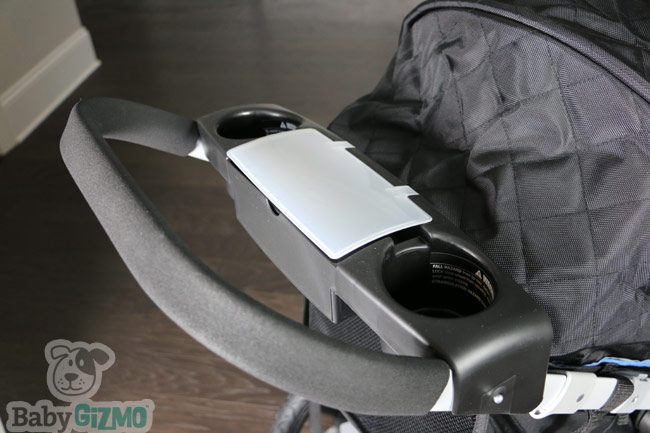 WHEELS
This is a stroller built for all-terrain and jogging, therefore, it rolls on large, air-filled tires. Two 16″ rear tires and a single 12″ tire in the front. The front wheel is a swivel wheel with the ability to lock straight for jogging and rough terrain.
FOLD AND UNFOLD
Since parents take their strollers on-the-go, how easy it is to fold is very important. Luckily, the Jeep Adventure has an easy, two-handed fold that ends in a convenient standing package that weighs about 27 lbs. There is a manual lock (we wish it were automatic!) and the folded package is pretty standard for a jogging stroller.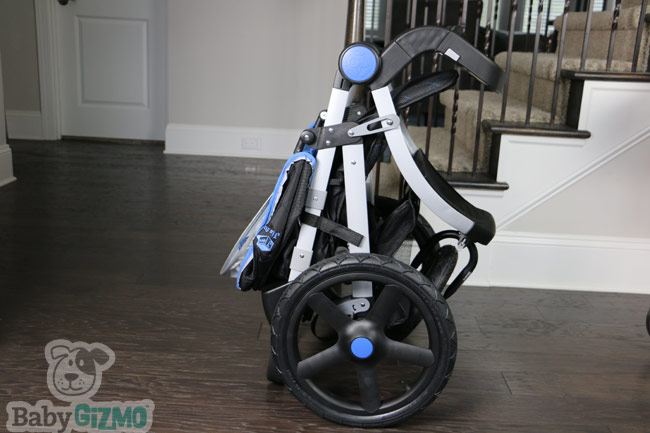 TRAVEL SYSTEM
If you are looking to use the stroller with a newborn (NOT for jogging, of course!), you can turn it into a travel system with a Graco Snugride Click Connect, Evenflo Nurture or Evenflo Embrace infant car seat.
WRAP-UP
The J is for Jeep Adventure All-Terrain Jogging Stroller by Delta Children retails for $149.99 and can be found on Target.com. This is a good option for a budget-friendly jogging stroller for sporty parents who want to take their baby with them on the open road!