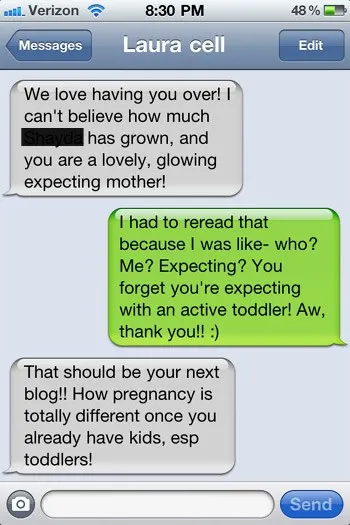 If you wonder where we get the ideas for our posts, sometimes they can come in the shape of a text message from a friend. As you can see from this, her text got me reminiscing about my first pregnancy and how different it was to this one. Having an active 18 month old daughter who seems to think sitting is something that only Mom and Dad do in the bathroom, means the words "Put your feet up" are said much more rarely this time around. Generally, a woman's first pregnancy is a blissful time of happiness and fun, imagining what having a baby will be like, with hours spent in Babies R Us look at cute outfits and playing around with every baby gadget imaginable.
And then you get pregnant again. And you're too busy with throw up on your t-shirt and cheerios on the floor to even think about stepping into Babies R Us. I'm thinking- I had a kid. I know what's up.
So, here I am bringing you my thoughts on the differences between a first pregnancy, and pregnancy with a toddler.
Napping and Talking to Baby


Some of both mine and my husband's fondest memories are taking long, lazy weekend afternoon naps whenever we felt the need to during my first pregnancy. We would laze around and talk about what we thought it would be like to be parents, what our baby would be like, and how our lives would change. We would regularly talk and sing to the growing human in my tummy.


Lives have changed, toddler is here and oh look! She's trying to climb up and into the top drawer of a chest of drawers. Naps? I'm grateful if she takes one nap a day and allows me to sleep for 15 minutes with her. We joke that the baby will come out and only know the sound of my daughter's voice, most notably her "Hi!" and "Tan you!" (Thank You). S/he will definitely know "If you're happy and you know it." That gets sung a lot around here.

Reading all about pregnancy/labor/breastfeeding

What To Expect When You're Expecting came with me everywhere. I would read through the Kellymom and La Leche info like my life depended on it. I know many parents read and learn various birthing techniques (I decided not to take any birthing classes. I survived. Barely) You "prepare" yourself for the unexpected.

IF I get time to read, it's about raising a toddler. Reading is now focused on figuring out my daughter and how we work together. Pregnancy books? Please. I had a kid. I know any ache/pain I have in these 40 weeks is due to pregnancy. Breastfeeding? I hope to be able to just stick the next kid on the boob. I might look into some kind of birthing class though. Maybe even read a book.
Buying Maternity Clothes

I spent hours in maternity shops, trying on cute dresses and shirts, and enjoyed buying clothes that showed off my bump.


Shopping with a toddler? Have I lost my mind? I already have everything in a box at the back of my closet. Just need to pull that baby out.
The Baby Book

I had time to date and tape all of my daughter's ultrasounds to the pages of her personalized baby book.

Still yet to buy baby book. Ultrasound pictures sitting in pile on our bookshelf. Bad mama.
The "Oh no! You can't do that, you're pregnant!"

Mom relaxes, dad fusses over her. "Honey, can you run upstairs and grab me a pair of socks?" or "Don't bend down, you're pregnant! Let me get it for you."

Mom is fearless! Pregnancy is a blessing, not an illness, I can do anything you can do! I took my toddler to a party and we were jumping on the bouncer, I even climbed up the giant bouncer slide with toddler in tow, and went weeeee! all the way down.
Eating out

Aw, remember how it was with pregnancy number 1? Mom and Dad go on romantic dates, eating at their favorite restaurants and giggling about what the future with a new baby will hold.

Eating out is more of a mission that should we choose to accept, it will most likely self- destruct…
What differences do you recall between your first and second pregnancy?