Disney Goofy's Kitchen Review
My family and I are fortunate in the fact that we live in sunny California where we are able to enjoy Disneyland often. Recently, we thought it would be fun to go to Goofy's Kitchen in the Disneyland Hotel. You guys, we had a BLAST! Goofy's Kitchen offers a brunch up until noon and a dinner at night. Both offer a MASSIVE selection of food, buffet style.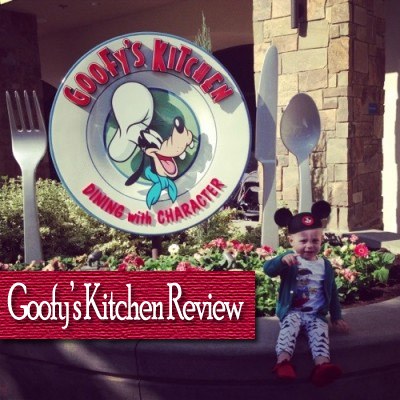 Each table has a server so you never have to worry about clearing your table or refilling your own drinks. As if this isn't good enough, the whole time you're eating, characters stop to hang out with you. Today I'm going to give you the full inside scoop on this very magical place!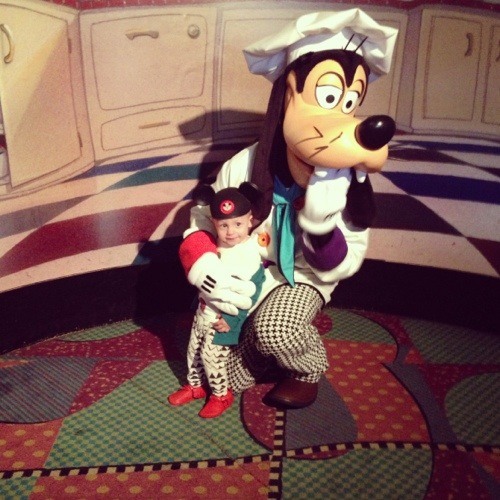 When you arrive at Goofy's Kitchen, you park at the Disneyland Hotel where your parking is validated for five free hours and your car is parked via valet. Talk about arriving in style! Once inside the restaurant, you check in at host stand (make sure you have a reservation!) and pay (the fun part right?). Goofy's Kitchen will set each person back about $35 a person. You also pay tax and a gratuity. If you have an annual pass, make sure to show it so you can get a 10% discount. Kids under three are free! If you're there celebrating a birthday, make sure to speak up when you make reservations! The birthday boy or girl will be presented with a birthday button, special birthday cupcake, and lots of singing!
After you're all checked in you will be greeted by Goofy where you can take as many pictures as your heart desires!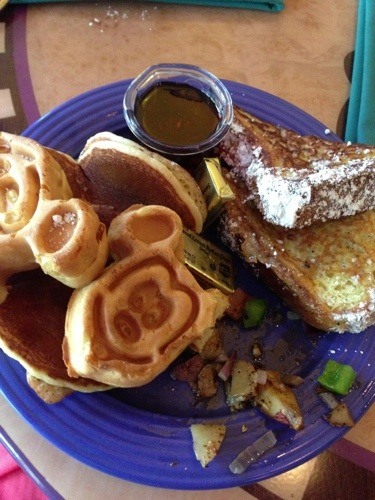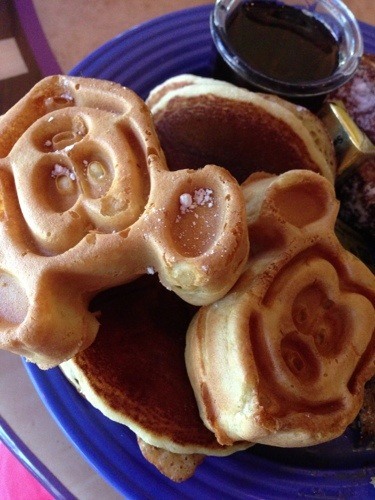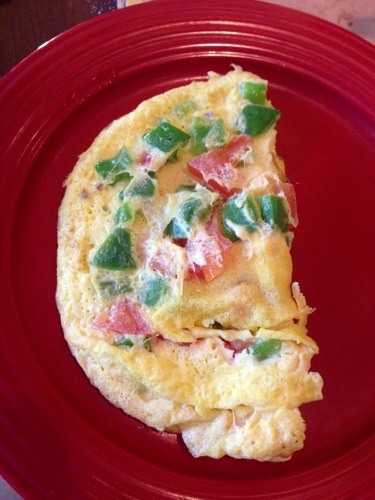 THE FOOD! Oh, the food! I could go on and on and talk for hours about the food at Goofy's Kitchen. They seriously have everything. There's every breakfast food you could imagine. I highly recommend the Mickey Waffles, pancakes, and french toast. Confession: I ate five pieces of french toast smothered in so much syrup that it ended up all over my hair. That's a sign that the food was scrumptious! There is also the most fabulous omelette station where you can choose all your mix-ins. They have breakfast potatoes, quiche, bacon and sausage and a carving station.
Since Goofy's Kitchen is a brunch, besides all the breakfast foods, they also have lunch. There's pizza, pasta, salads, fruit, vegetables, you name it and they have it. No one is going to leave here hungry and even the most picky eater will be satisfied! If you or your kids have food allergies, no problem! Simply ask to talk to the chef so they can make your food to cater to your allergies!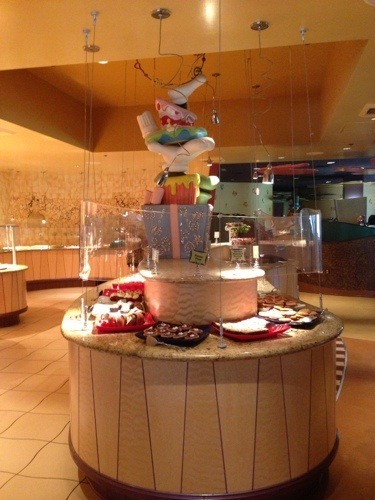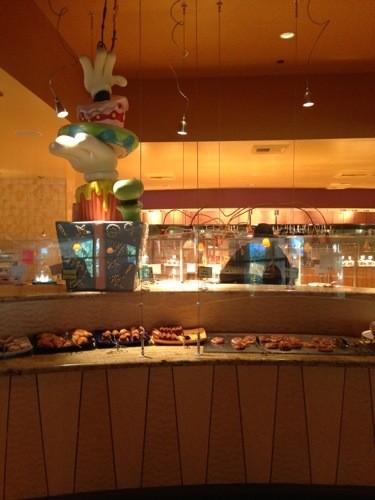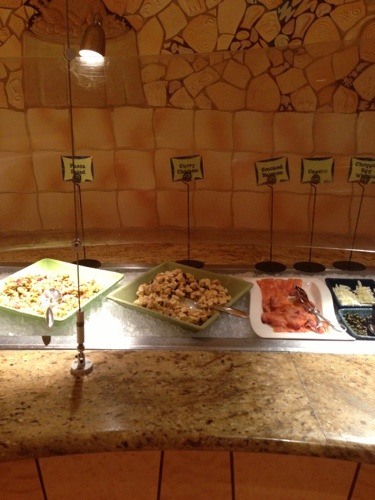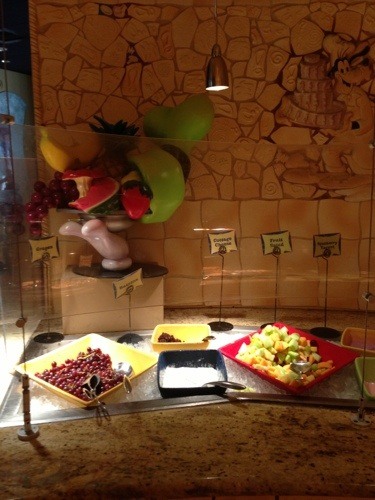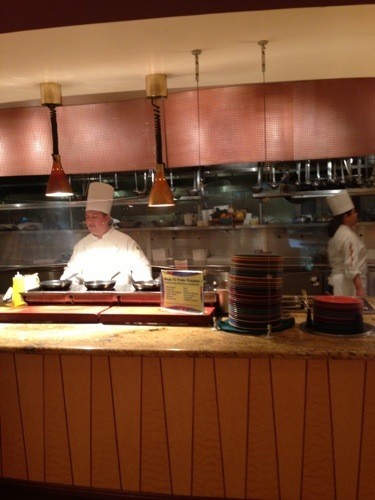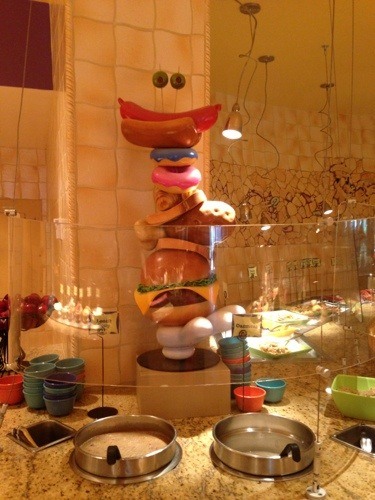 As you can see, there's a lot of food! It is set up really cute and very easy to navigate. The whole time you're feasting, you are greeted by characters. It's a character buffet after all! Goofy is sure to be there and the other characters are surprises. While we were there we also saw Pluto, Chip and Dale, Captain Hook, Sleeping Beauty, The Mad Hatter, and Rafiki. The characters are happy to hang out with your kids, take as many pictures as you want, and lots more. It really beats standing in lines in the heat waiting to get 2 seconds with a character. This part of the buffet is definitely part of the experience and why you pay a higher amount to eat here. Totally worth it in my opinion,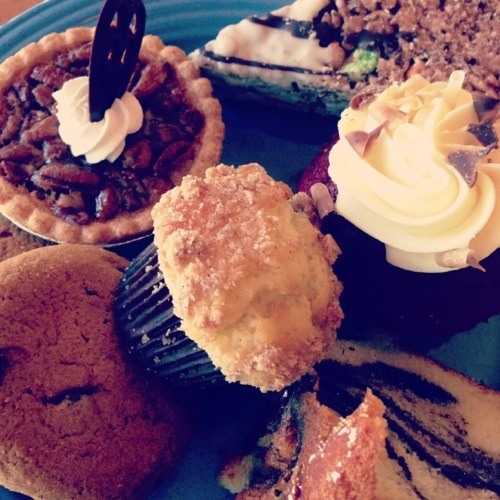 After you've eaten yourself silly with breakfast and lunch, next comes dessert. The dessert station is HUGE and they have a good variety of muffins, cookies, cupcakes, pies, breads, jellos, and lots more. There is something for everyone!
Overall, I would easily grade Goofy's Kitchen an A+! I can say first hand that it isn't just for the kids, because I'm already counting down the days until we go back again (32 for my son's second birthday!) and I'm a grown woman. The food is the best I've had at any buffet in my life, the characters are friendly, the service is fast, and the whole experience is magical. I highly recommend checking this place out if you're ever in my neck of the woods or the next time you go to Disneyland! You won't be disappointed!