We wanted to introduce you to some of our Baby Gizmo Senior Editors.  One at a time, of course!  Today, meet Ann. 

Ann Craig, Editor
Ann is a first-time mom in Southern California who loves buying 'usefully cute' items for her son (Okay, she just likes having the excuse to satisfy her shopaholic nature). It would be even better if he also found them useful- then maybe she could get away with more items! But alas, he's happier chasing after her phone or his daddy's sneakers. When Ann is not busy playing keep-away with her son, she enjoys strolls around Disneyland, bargain-hunting and talking about all things baby! (Luckily for her, there are at least 9 people at her job who just had or who are having a baby so there's always someone to talk to. Something's in the water!!)

Now, that you and Ann are friends – let her tell you ways to Ditch the Diaper Bag!
Once upon a time, I was feverishly researching everything under the sun on what I'd need for my bundle of joy. I remember that the diaper bag search taking much longer than anything else I had chosen. How can one select the perfect diaper bag from the wide selection of sizes, patterns and shapes? I finally settled on a non-descript, hubby friendly diaper bag with lots of pockets (because everything I was looking at boasted pockets galore!).
Fast forward to the weeks and months following the kiddo's birth: I realized that I rarely used any of the items that were in my diaper bag when we went out. I felt like I was hauling the kitchen sink around for no reason at all! So I decided to ditch the diaper bag! Here's how:
Ditchin' Diaper Bag Problem 1: Where do the diapers go?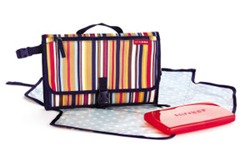 I downsized to a Skip Hop Pronto. This handy changer holds about three diapers, a great wipes case (never had problems with the wipes drying out), an external zippered pocket and it folds out to a decent sized changing pad. In the zippered pocket I usually keep a bib and a washcloth (just in case I have to wipe messes up). This always stays in our car so we never forget it. Three diapers are plenty for most of our outings. If we're going to be out longer than planned, I make sure I have a couple extra in the car. This then clips onto my stroller or I just tuck it under my arm.
Ditchin' Diaper Bag Problem 2: I need extra clothes!
I keep an outfit (or two) in the car. All of my strollers have pockets so I put the spare outfit in there or, if we'll have easy access to our car, I leave it in the car. Jackets are usually stored in the basket or I put it on the kiddo to wear.
Ditchin' Diaper Bag Problem 3: Where does the food go?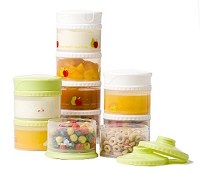 While breastfeeding, I kept a breastfeeding cover and a bib in my purse. Now that the kiddo eats solids, I usually bring a spoon (in a baggie) and a container of food in my purse, which, by the way, is not a gigantic tote bag. I actually use a medium sized purse (with minimal pockets!).
I also bring a bottle that has been prefilled with water (or a sippy) and then I put my formula into an Innobaby Stack N Seal holder. The Stack N Seal is also great for holding snacks and you can configure it to hold 2-5 containers at once.
Sometimes if I know we're going to a place where the kiddo can get food to eat there, I won't even bother with bringing anything except for a few snacks (since they're GREAT for distracting baby while you're trying to eat your meal).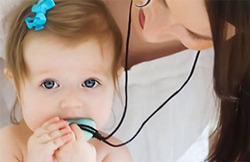 Ditchin' Diaper Bag Problem 4: How 'bout those toys?
I bring ONE toy. Usually it's a small cloth book because the kiddo likes the crinkly sounds it makes and it fits well into my purse. Sometimes I'll wear Teething Bling to make it easy for me to hold and entertain him if he's being a little fussy.
Ditchin' Diaper Bag Problem 5: Blankets! I need a lot of them!
I suppose I'm fortunate to be able to live in an area where I don't need a lot of blankets, but I keep two in my car, one light one and one for cold weather. If I'm going to be in a sunny area and the canopy won't fully cover the kiddo, I'll bring the lighter blanket with me to help with shading. 
Now, sometimes I do still bring the diaper bag, but ONLY when I'm on an overnight trip because I need more storage to bring all of the kiddos items that I need. With a little creative "reorganization," I don't miss bringing a diaper bag at all!
– Contributed by Ann