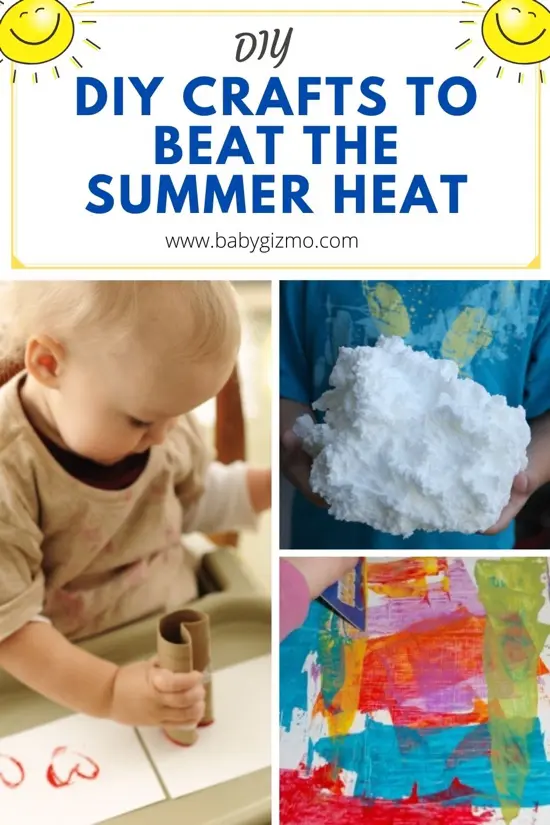 With temperatures hovering around 95 in my city, leaving the house with a toddler and baby has begun to feel like a chore. Well, wait, it already felt kind of like a chore before the temperatures starting rising, but now, leaving the house with soaked arm pits and beads of sweat dripping down my face has…well…made things feel much harder.
So with the temperature rises, we've been staying home more. We should be bored out of our eyeballs, but we're not because we have lots of fun and educational crafts to keep us all entertained (and cool).
Here are just seven of the go-to crafts we've been doing to beat the summer heat:
I don't know about you, but in my house, we've got plenty of cardboard boxes, crayons, small toys, and markers so this fun craft by The Imagination Tree for a Cardboard box Town is too easy not to love.
I'm all about crafts that make use of supplies I already have at home, so this craft for Homemade Soap by Our Best Bites is perfect. All you need is a microwave and some Ivory Soap. And while the awesome blob you create through this at-home science project is very cool and entertaining, you can go one step further and have your kids make their own homemade, colored soap!
Did I mention that I have a lot of cardboard boxes? Yeah? Well, that's just one more reason why I love this craft for a DIY Cardboard Shape Sorter by Parents.com. It's easy and fun and educational.
Toilet Paper Roll Heart Stamper.
This nifty craft idea by Prudent Baby for a Toilet Paper Roll Heart Stamper involves only a toilet paper roll folded to resemble a heart and paint. That's it! What's not to love?
What's credit card art? Why, it's art made with old credit cards. This great idea comes from Housing a Forest. To make, you'll just need paint, old cards, and empty cereal boxes (or cardstock paper).
Matching Colors with Paint Swatches.
Along with a dozen books and videos on colors, my toddler's been having a blast with learning her colors through matching colors with paint swatches. I saw this idea first on the The Tot School and loved it because the art created looks so cool!
I know. It sounds so gross and so messy, but honestly? It's not. This great idea for DIY Slime from Tot Treasures combines glue, liquid cornstarch, and food coloring. It's fast. It's easy. And it's a guaranteed blast for your tiny tot.
What I love most about all of these crafts is that they aren't rocket science. You can do them with a elementary background in crafts and without having to make a trip to Michaels.
What are some of your favorite crafts to do in the hot summer months with your toddler?