Before you have kids, and you hear a child SCREAMING at the top of their lungs, you sometimes wonder what the parent is doing to them, right? Maybe they're hurting them? I mean, that kid is seriously screaming, there must be physical pain involved? And your heart aches for the child.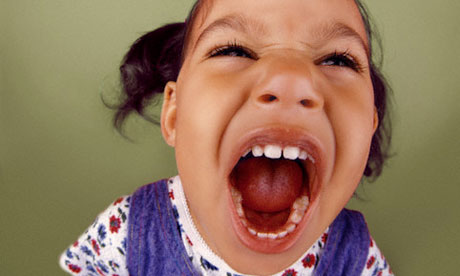 And then you have children. And now when you hear screaming you can probably think of several reasons why that child is having a meltdown. And now, your heart aches for the parent.
So, to my poor neighbors who don't have children, here are some reasons why my 17 month old is screaming like the world is just about to end:
1. He's having a diaper change. Didn't you know diaper changes are the WORST thing on the planet? I should have known my son actually wanted to walk around with poop stuck to his butt. Who doesn't?!
2. He's tired. Yes, the world's best parents missed the right sleep time, and now we've made it to full meltdown mode. Keep calm, they're almost in bed.
3. He wants to play with something he can't have. What kind of mother doesn't let her toddler play with scissors?
4. The iPad/iPhone got taken away. I might agree with him on this one. It kind of does feel like the world is going to end when you have no phone.
5. He's being showered. Again, toddlers have a tendency to hate personal hygiene routines.
6. He's being put in the car seat. In his defense, he's about to be strapped down for an unknown period of time (in his mind) so why wouldn't he scream?
7. His sister took the Doc McStuffins stethoscope away from him. Think it can't happen to you? Ha! Have two children close in age and then get back to me. Distraction, sharing, taking turns- parenting books really need to write "It will happen. Just breathe and drink coffee."
8. I'm on the phone. How dare I speak to another human being?!
9. He's having clothes put on him. Incase people don't know, toddlers just want to be naked. All. Day. Long.
10. A parent left the room. I don't know how it happened, but one of us had the audacity to leave the room. Just who do we think we are going to the bathroom alone?! Or running upstairs to grab a pair of socks!
In conclusion, unless we want to sit right next to a naked, covered-in-poop, playing with knives toddler who watches the iPad all day, and never go on the phone or pretty much move anywhere, there may occasionally be tears. Please bear with us. I'm sure we only have….. 17 more years of this until he goes to college.