I love Raffi as much as the next mom. Cheery, seasonal, inducing preschooler laughter … it's fun. But somedays, it's annoying. Right? I mean, I'm not the only one who gets down on the "Wheels On the Bus"?
To balance the rhyming and silly songs I've been sneakily encouraging my kids to like mama music. AND … it's been working! We now have a full line-up of both mom, dad and kid approved CDs for the car and I'm no longer driving myself crazy as I hum our car tunes in and out of the car.
I polled some fellow parents on their mutual music interests and it seems I'm not the only one who is mixing it up. Here's a round up of what we're all lovin' these days …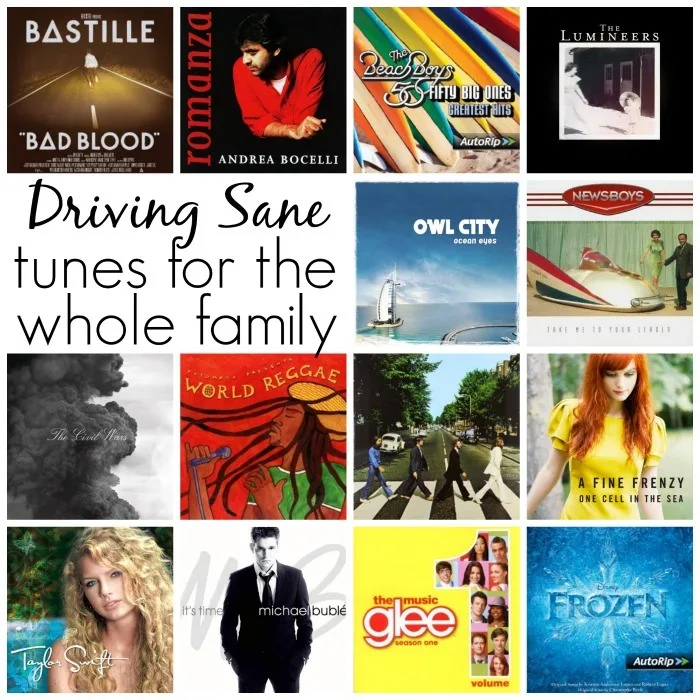 Bastille /// Andrea Bocelli /// The Beach Boys /// The Lumineers /// Owl City /// Newsboys /// The Civil Wars /// World Reggae /// The Beattles /// A Fine Frenzy /// Taylor Swift /// Michael Buble /// Glee /// Frozen
Don't even try to tell me that you don't like Frozen! We've all belted it out with Idina and felt darn proud of those high notes as we fly down the freeway. 🙂 That's mama gold, right there; making memories with the kids as we sing our hearts out.
Finally, here's my little disclaimer … I totally stink at understanding lyrics and often make up my own words. So, no promises these are all truly kid appropriate. Preview it for yourself before loading it up for a family jam sesh, okay? 😉
Now, what tunes do you and your kids both love to sing along to?