Guest Post By Jennifer Walters
When we found out we were having twins, my husband and I could hear cash registers cha-chinging in our minds. Two of everything, right? Add to that the tons of diapers, clothing, books, and toys that two baby boys need, and our bank account was taking a serious hit.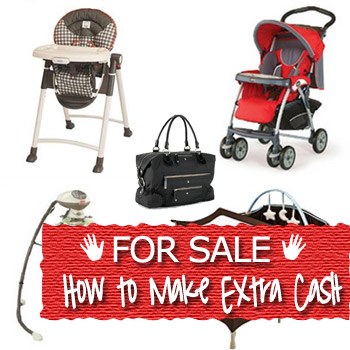 After the twins turned one and my new-mommy fog began to lift, I decided to start selling some of their old stuff to offset the cost of all the new things they constantly need. But none of the traditional selling routes seemed to work for me. We held a garage sale, but we didn't earn nearly enough to justify all the preparation. I am too lazy to schlep to the post office to sell on eBay (plus I don't want to pay seller fees). And after getting bombarded with spam emails—and meeting a buyer who gave me the creeps—I swore off Craigslist.
Then a friend of mine introduced me to a different method: Facebook resale groups. These are local groups of savvy moms and dads who buy and sell new and gently used maternity, baby, and kid items at prices that are a steal for buyers, but more money than the seller would likely get otherwise. And it couldn't be easier: You snap a cell-phone photo of your item, write a brief description and name your price, and upload the photo to the page. When someone buys the item, he or she comes to your house to pick it up, or you meet him or her at a convenient location. And voilà—extra cash in your pocket!
My friend added me to two local groups here in Colorado Springs – Wee Ones Buy&Sell and It's a Cluster for Moms. I posted a few items and immediately had great success. My boys' outgrown Stride Rite shoes, infant toys, and stroller bunting were snatched up almost as soon as I posted them. The buyers met me at places I was going to anyway—Target, Gymboree, etc. It was quick and simple, and I was hooked.
I've found some great buys on these groups, too. I recently purchased two hoodies and nine pairs of shorts for the twins, all in excellent condition, for $8. I've also bought some of my boys' favorite toys through these groups for only a few dollars a pop—Melissa & Doug puzzles, Eric Carle board books, and hard-to-find Fisher-Price Little People toys. Finding a great deal is thrilling.
To find a Facebook resale group for your city, try doing a Google or Facebook search. Enter your city name along with search terms such as "resale" "buy and sell", and "baby and kids." Ask other parents if they know of any groups. And if you can't find a group, just start one yourself! Once you're on Facebook, select "Groups" from the menu on the left, then click "Create Group." Follow the directions to add members, select privacy settings, etc.
One thing to remember: Certain baby items should always be purchased new. These include car seats, cribs, crib mattresses, and breast pumps. Happy buying and selling!