Eddie Bauer Endurance Jogging Stroller Review (VIDEO)
With summer right around the corner, and hopefully warm weather coming, parents are going to start hitting the pavement with their kids in the strollers. After a long winter, many of our active moms and dads are going to going to have the chance to start jogging outside again. If you have little ones, you know that they probably will have to come along for your run most of the time – at least mine do! Not any stroller will be able to keep up as your jogging buddy though. You'll need a stroller that was specifically designed to handle jogging. It will have larger, air-filled tires, a good suspension system and hopefully a roomy seat with a high weight limit.
These jogging stroller can be expensive setting you back up to $400 or $500+. But good news, you don't have to pony up that cash to get a decent jogger. There are budget-friendly options that have all the features that you'll be looking for but at a fraction of the cost of its pricier pals.
Enter the Eddie Bauer Endurance Jogging Stroller.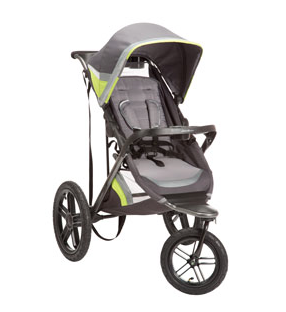 This jogging stroller rings in at under $200 but has the features that make it a good running buddy. Take a look at our full video review of the Eddie Bauer Endurance Jogging Stroller below.
SHOP Eddie Bauer Endurance Jogging Stroller HERE