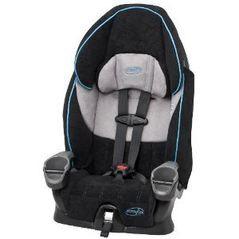 Evenflo has voluntarily recalled nearly 14,000 Maestro booster seats. Certain laboratory tests that simulated high-impact frontal collisions caused a crack in the Maestro booster seat.
According to Evenflo, no injuries have been reported by consumers. This default was only discovered in a controlled testing environment.
Here are the details:
1. The recall affects American and Canadian Maestro booster seats, but the details are different for each country. The recalled American seats were built between November 24, 2009 and April 9, 2010. The recalled Canadian seats were built between December 17, 2009 and April 26, 2010.
2. The recall only affects seats with a model number that starts with "310". You can locate the model number and date of manufacture behind the car seat, on a white label that is located above the highest shoulder belt slot.
3. If your child is under 40 pounds, discontinue using the Maestro seat immediately. Call Evenflo at 800-233-5921 (in the U.S.) or 800-265-0749 (in Canada) between 8 a.m. and 5 p.m. ET for a repair kit.
4. If your child is over 40 pounds, Evenflo claims that the Maestro is still safe to use. The company still recommends ordering a repair kit, but you may still use the seat until you receive it in the mail.
5. Stores where the Maestro was sold are not issuing new seats or refunds. Evenflo is sending out repair kits that will completely fix the problem.
6. While the recall only affects certain model numbers of the Maestro seat, Evenflo is pulling all models from store shelves until further notice.
For more information, visit the Evenflow website at www.evenflo.com.